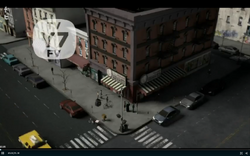 Antonio's Pizza-rama, or just Antonio's, is the main fictional pizza chain appearing in the 2012 TV series. The turtles first pizza was a pepperoni from Antonio's and they have been ordering their pizza from Antonio's ever since.
Usually the turtles add some of their weird toppings to make it more "refined" to their taste.
Phone Number: (212) DA-FLVR
Appearances
See Also
Antonio's Pizza-Rama in Playsets by Playmates:
Antonio's Pizza-Rama in Playsets by LEGO:
Gallery
Ad blocker interference detected!
Wikia is a free-to-use site that makes money from advertising. We have a modified experience for viewers using ad blockers

Wikia is not accessible if you've made further modifications. Remove the custom ad blocker rule(s) and the page will load as expected.