April's Fool
Talk

0
2,075pages on
this wiki
The third season aired in syndication. For most of this season, the Technodrome is located at the Earth's core. Transport modules with drills are used to travel between the Technodrome and the Earth's surface. This is the longest season to date next to season four. Season 3 consisted of 47 episodes, running from October 19 to December 22. Most of the episode titles were based off classic movies. "Attack of the 50-Foot Irma", episode 21 was from Attack of the 50-Foot Women in 1958. "Turtles at the Earth's Core" title was from Tarzan at the Earth's Core. "20,000 Leaks Under the City" was from 20,000 Leagues Under the Sea. "Four Musketurtles" was from The Three Musketeers, "Invasion of the Turtle Snatchers", from Invasion of the Body Snatchers a 1956 film, "The Turtle Terminator" had a reference to the 1984 Terminator film, "The Gang's All Here" was from Hail, Hail, the Gang's All Here, a popular 1917 song, "The Grybyx" had a little Ewok like creature from Star Wars Return of the Jedi, 1983 science fiction film. "Mister Ogg Goes to Town" came from Mr. Deeds Goes to Town, a 1936 film. Turtles on Trial had a robot that looked like ED-209 from the movie ROBOCOP.First season where Krang's bubble walker appears.
Michael Reaves & Brynne Stephens
Characters
Edit
Leonardo (Cam Clarke)
Donatello (Barry Gordon)
Malicurian Emperor (Pat Fraley)
Princess Mallory (Renae Jacobs)
First Malicurian Guard (Peter Renaday)
Second Malicurian Guard (Rob Paulsen)
The Malicurian Emperor comes to New York, bringing along a shard of Lydium 90. In order to get the mineral to fuel the Technodrome, Shredder invades the costume party thrown by the Malicurian Embassy to kidnap the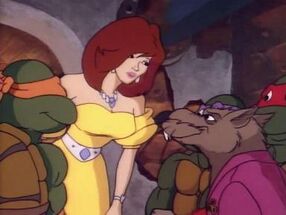 princess - but they end up capturing April in a fancy dress who looks just like the princess.
Malicurian Embassy Helicopter
Locations
Edit
Turtles ' Lair
Malicurian Embassy
City streets
Donatello's Turtlecom is animated like April's when he contacts her at the Embassy.
When Donatello recieves the costume trophy, his "D" is the same color as the buckle.