April O'Neil
Talk

0
2,804pages on
this wiki
"Okay, those guys in the black pajamas, they jumped me, and, and that rat... I saw *you* in the parking lot. That explains you. And you guys... Um... I have no idea where you came from."
— April O'Neil (when meeting the Turtles in the first film)
April
Biographical information
Home

The Valley / New York City, Manhattan / Northampton, California, Second Time Around

Ethnicity

Irish-American

Nickname(s)

Babe, Toots, Princess, "Ape" (ugh!) "Carrot-Top" (double ugh!)

Date of birth

1962, 1965, 1980, 1995

Weapon(s) of choice

52mm News Makers' Special, Gun, Ninja Star, Katanas, Kappa Katana, Super Spear-tipped Bo, Antler Lance Broadcastin' Bo, Cool Katana Blade, News Makin' Nunchaku, Scoop 'em Sai, tonfa Shogun Sai, Shogun Staff, Two Shgun Stars, Long Steel Sword Nasty Ninja Fright Star, Kowabunga Club, Wood and Stone Ninja Stars, Stone Stickin' Knife, Stone Age Saddle & Reins Her brains and her laptop, tessen, (in her 2012 incarnation) Tessen (bladed hand fan), (and in some incarnations) her deductive/information gathering skills as a reporter

Affiliation
Physical description
Species

Human, Drawing (Mirage), Mutant Cat (1987 series), Mutant Fish (1987 series), Mutant Wasp (1987 series), Mutant Turtle (Archie), Demon (2003 series)

Gender
Height

5' 5", 5'7", 5' 8"

Weight

99.9 lbs wearing chains, 105 lbs without pad and pencil, 115 lbs, 125 lbs

Hair color

Red, Brown, Orange, Black

Eye color

Green, Black, Yellow, Brown, Blue

Out of universe information
Era(s)
Mirage, 1987 series, Image, First movie, Second Movie, Third movie, Fourth movie, , Archie, Anime, 2003 series, Dreamwave comics, Lost Season, Fast Forward, Back to the Sewer
Publisher

Mirage Studios, Archie Comics, Dreamwave, Konami

First appearance
Created by
Voiced by

Renae Jacobs (1987 series)
Emi Shinohara (Japanese)
Judith Hoag (1st movie)
Paige Turco (2nd and 3rd movies)
Sherie Rene Scott (Coming Out Of Their Shells)
Veronica Taylor (2003 series)
Sarah Michelle Gellar (4th movie)
Rebecca Soler (Turtles Forever 88 April)
Mae Whitman (2012 series)
Megan Fox (2014 Reboot)

Teachers and Students
Teacher(s)

  [Source]
April O'Neil is a character from Teenage Mutant Ninja Turtles who usually collaborates with the turtles in their missions.
Comics
Mirage Comics (1984)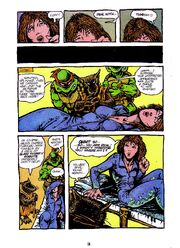 April O'Neil started out as an assistant for Baxter Stockman. When she discovered that Baxter was using his Mousers to burrow into bank vaults and steal from them, she attempted to flee Baxter's workshop and found herself in the sewers running for her life, with several Mousers in pursuit. Three of the Turtles happened to come across her and save her and brought back to their lair, where she would meet Splinter and find out about their origin. With her new friends, she returned to Baxter's hideout and defeated him. As the series went on, she became a closer friend to the Turtles and their link to the outside world. She also decided to reopen her father's antique store 'Second Time Around'. During the Shredder's sudden return (What Goes Around... Comes Around!/Silent Partner/Return to New York story arcs) April, the Turtles and their new friend Casey Jones had to escape to Casey's farm house in Northampton Massachusetts where she later had dreams about the Foot Clan's attack. During these events she would know Casey better and in time take a liking to him. April would live with her sister Robyn O'Neil for a while during the events of City at War and find out their father died. Looking for a new place to live, she just happened to find the apartment Casey was living in. Eventually she'd marry Casey and they'd raise his adopted daughter Shadow Jones.
In TMNT Volume 2 of the series, April would be attacked by Baxter Stockman, now a brain inside a killer robot (apparently, Baxter having escaped capture, had placed his brain in the body of a robot and sought them out in order to get revenge on April). She would be injected with something, and though the Turtles defeated Baxter, it was never revealed what exactly April was injected with.
This would be somewhat revealed in TMNT Volume 4, as April and Casey wondered why they couldn't have children and discovered deadly nanorobots within her system, threatening her life. With help of the Utroms, the Turtles made TMNT-style Nanobots that saved April's life before Baxter's nanobots could reach her brainstem. Time would pass and April still couldn't have children. This put an emotional strain on April, and she became a female version of Nobody until she was discovered by Casey Jones. It was with the help of Renet taking her back in time that revealed that April was really a living drawing, brought to life with the help of Kirby's crystal, drawn by her father, who at the time really wanted a daughter. This was before their own biological daughter Robyn O'Neil would be born. Unlike Kirby's drawings drawn with pencil that would vanish after a while, April's father used a pen, so it might explain why April lived past thirty without vanishing so far. Questions such as if she was real or not, whether she could live or die, or when she would eventually vanish were too much for her to handle. April bid farewell to Shadow and Casey and went to be alone with her thoughts in Alaska.
Fan reaction was mixed, as many believed her normality served as a good contrast to the fantastic nature of the Turtles. No other incarnation of April has shared this origin to date.
Unlike some of the other versions of her character, the Mirage Comics version of April has dark brown/black hair (though early color reprints of Volume 1 depicted her hair color as red/light brown). Most future incarnations of April that came afterwards are redheads.
April also appeared in the Teenage Mutant Ninja Turtles Adventures comic produced by Archie Comics, which began as re-tellings of cartoon episodes but were eventually spun off into original stories. In this series, she began as a carbon copy of her animated counterpart, but the writers developed her into a competent warrior after training with Splinter. Years earlier in the September, 1985 re-printing of issue one, Mirage Studios artist Ryan Brown depicts April as a katana wielding ninja warrior in his back cover pin-up. Because of her frequent adventures with the Turtles, she lost her job at Channel 6 and became a freelance reporter. April received ninjitsu and katana training from Splinter, and gradually became highly proficient at fighting skills. Her remarkably quick progress was explained as being a result of her unique genetic lineage, having been a descendent of the malevolent sorceress, May East. Archie also published 2 sets of 3-part April O'Neil mini-series, the second of which dealt with the May East saga. In the Winter 1994 Archie Special, April was mutated into a turtle herself . This made April become the first official female turtle introduced to the series, three years before Venus de Milo's debut.
April, on the eve of a party to commemorate Casey's promotion at a local supermarket, had Michaelangelo babysit Shadow. After going to sleep, the Foot kidnapped Shadow, giving her to her paternal grandfather, Antoine Puzorelli. Raphael made a deal with the Ruling Council of the New York Foot to get her back, one that called for him to personally assassinate Puzorelli, though it failed. Michaelangelo, after being confronted by a drunken Casey Jones, went on a solo mission and recovered Shadow from the cathedral she was being baptised at, returning her to April and Casey at the hospital after Casey had been shot (TMNT Vol. 3, #6 - 8). Antoine Puzorelli then had his thugs put his apartment on surveillance in an attempt to locate his granddaughter. When April caught on to this and told Casey, April, Casey, and Shadow went into hiding in the Turtles' current hideout in the mausoleum of Westwood Cemetery. April was present when Casey accidentally clubbed Raphael when he returned to the hideout, thinking him an intruder. She, Casey, and Shadow met back up with Leonardo and Michaelangelo when they brought Donatello to their mausoleum hideout, where he was then revived (TMNT Vol. 3, #11, 12 & 15).
In this incarnation April is an eighteen year old college student, lab intern, Casey Jones' tutor and self-defense protege. She is the one who names the Turtles out of inspiration of her History of Renaissance Art 101 class. She is later attacked by a Foot Ninja in the Stockman Research Lab but is aided by non-mutated Splinter to make her escape. After fifteen months have passed she is reunited with the Turtles who are now mutated teenagers who are skilled in the art of ninjutsu. In which she helps them break into Stockman Research Labs to rescue Splinter.

After learning of Stockgen illicit actions she becomes a double agent by making use of her access to aid the Turtles. She develops a plan to obtain Stockman's Turtle Tracker ( a device used to hunt down the Turtles). Using her resourcefulness and her moves taught to her by Casey she sneaks into guarded divisions of the company. She manages to retrieve the Tracker (which she hide from Stockman's staff in order to retrieve it later). She is then confronted by a Stone Warrior who realizing she is not meant to be in that sector and chases her. April makes her narrow escape by blinding the Stone Warrior with an exhaust hose. As soon as the Stone Warrior goes after her again he is then attacked by spikey mutated Turtle (later to be known as Slash.) In the chaos of scattering security teams April hides in hazmat suit and sneaks away.
Cartoons
1987 cartoon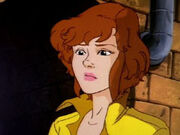 In the television series Teenage Mutant Ninja Turtles, April O'Neil is a journalist from Channel 6, she was employed by Burne Thompson. She meets the Ninja Turtles, after a group of criminals attacked. April is always looking for a scoop, and often tend to put themselves in dangerous situations (it was often bound and gagged.) Against which the Turtles must cope. This process eventually turn internal gag in the series (in Turtles Forever, Leonardo said they have already saved several times a day). This is the incarnation of April that most people fondly remember from the franchise.
2003 cartoon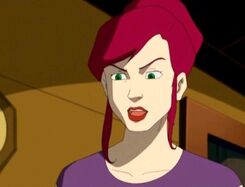 In the 2003 version, April is mainly based on the comic version, with some minor differences. It was here the assistant Baxter Stockman, who had helped create Mousers. However, after discovering by chance that his employer used to fly, she found herself pursued by the robots into the sewers. There she was narrowly saved from a horrible death by the Ninja Turtles.
It should be noted that, although it corresponds to comic advantage, we find it in indirect allusions to April 80. For example, it the same reaction when she sees for the first time the Turtles and Splinter. During an episode, it is of holding yellow similar to the April 80 and pretends to be a reporter to help Turtles.
2012 cartoon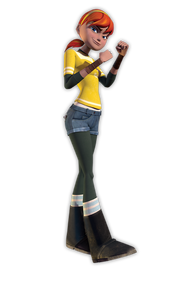 In the new 3D CGI cartoon show being made by Nickelodeon, April is 16 years old. The reason for this is that Nickelodeon thought it would be odd for a woman to be hanging out with teenagers (the Turtles). She is voiced by Mae Whitman.
April met the Turtles when she and her father (Kirby O'Neil) were attacked by the Kraang. She was afraid of the mutants at first, but started to trust them thanks to Donatello. The group was unable to fight effectively as a team, however, and the Kraang succeeded in kidnapping April and her father. While she was trapped in their hideout, April tried to trick the Kraang into letting her escape, but her plan failed. Later the Turtles came to her rescue. Eventually they succeeded in saving April, but the Kraang got away with her father. Later the Turtles met April at her aunt's apartment, where she would now be staying. April was safe, but upset over the loss of her father and determined to find him. The Turtles promised to help her get him back.
In Monkey Brains, she demonstrates traits of an empath when she is able to track down and identify the escaped monkey as the mutated Dr. Tyler Rockwell. This prompts Splinter to invite her to train as a Kuno-ichi, a female ninja, at the end of the episode. Indeed, unlike previous incarnations, this April has a bit more spunk and fight to her. In Metalhead, she is shown investigating a Kraang-infested warehouse on her own and even outwits and takes out a Kraang bot with a crow-bar.
While she is friends with all the Turtles and frequently hangs out with them in their lair after school, April seems to have the closest friendship with Donatello. He has a crush on her, and although its unclear what her thoughts are on the matter, Donnie's brothers do enjoy teasing him about it.
The Kraang apparently did not want her father, but instead wanted April herself. The reason for this is still unknown. however, in Karai's Vendetta, when pure Krang Water (shown moments before to be deadly to earth based organic life by dissolving a pizza like acid) splashed on to her, she showd no illeffects, suggesting either possibly having Dimension X origions, or having a unique immunity to substances from Dimension X.
Playmates produced an action figure of her for the new line of figures. Nickelodeon also leaked a bio of her.

Summary
The new April is a smart, strange sixteen year-old girl with an indie rock vibe. The fact that April feels more comfortable with four mutant reptiles than with her high-school peers should tell you a lot. When Splinter realizes that she is "sensitive" to the same "universal vibrations" that he is, he takes it upon himself to train her. Splinter knows that the Kuno-ichi (the female ninjas) were actually considered the most powerful and, over time, he will help her develop her abilities.
Motion pictures
Teenage Mutant Ninja Turtles (March 1990 film)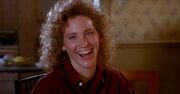 In the first TMNT motion picture, April (played by Judith Hoag) was a television reporter (though she worked for Channel 3 news in this case) working for Charles "Chuck" Pennington, and did a series of stories on mysterious thefts in New York City whose culprits vanished without a trace. One night when leaving work, she was accosted by teenage thieves in league with the Foot Clan, but the Turtles appeared and saved her by knocking out and tying up the teens under the cover of darkness. In the aftermath April discovered and grabbed Raphael's lost sai, but Raphael soon followed her and took back the weapon and saved her again when she was attacked by a group of Foot Ninja in the subway and after first making a joke to them about being behind on her Sony payments, then trying to fight them off with her purse is knocked unconscious by one of them with one punch. Unsure what to do with her, he carried her unconscious form to their sewer lair. Though her fearful reaction upon seeing the Turtles and Splinter initially got the better of her, she eventually came to regard the Turtles as friends, and even allowed them to live in her apartment after the Foot Clan discovered and destroyed their sewer dwellings. Chuck fired April for a while. Also, Casey Jones develops a romantic interest in her but at first she didn't feel the same for him. By the end of the film, she realizes she loves him and then kisses him.
Mirroring the Mirage Comics storyline, the Foot once again attacked the Turtles in the antique shop, prompting April, the Turtles (including a wounded Raphael), and Casey Jones to retreat to her family's farmhouse in Northampton, Massachusetts. She kept a journal documenting their forced sabbatical in addition to drawing sketches of the Turtles. During their respite, April also developed a kind of love-hate relationship with Casey Jones. She grew extremely close to the four brothers as well; Michaelangelo, who initially confessed to having a crush on April, later addressed her as "Sis," indicating the role she had come to occupy in the Turtles' family.
Second (1991) and third (1993) movies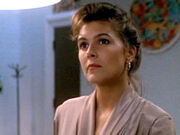 In the second and third movies, April was played by Paige Turco. In TMNT III, April was temporarily transported to feudal Japan.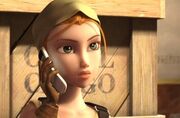 April appears in the 2007 film voiced by Sarah Michelle Gellar; following the continuity from the previous films, it appears that she and Casey Jones are living and working together in a shipping firm, engaged in a relationship. It is she who finds Leonardo in Central America at the start of the film, having been in the area seeking an artifact for Max Winters. No mention is made of her past as a journalist, but it is instead implied that she has taken up archaeology as a career.
She has taken up martial arts training from Splinter, purchasing a suit and armor from Japan and becoming skilled in the use of katana, apparently leaving behind her past as a 'damsel in distress'. This is demonstrated as April and Karai fight it out while Casey, Splinter and the turtles battle the Foot in order to save Leonardo. This appears to be corroborated in a collectible booklet packed in with her action figure for the film, which implies that she has become a master of the katana. The figure itself includes a katana, tonfa, and two shoulder armor pads; this outfit would be replicated for the film. It is also noted that in the beginning of the film, she wears something similar to Lara Croft's normal outfit.
Megan Fox will be portraying April in the 2014 reboot.
April also made a live-action appearance in the TMNT: Coming Out of Their Shells musical tour, during which her role was to incite the live audience to interact with the stage performers and encourage the Turtles when needed. She was played by Sherie Rene Scott.
Quotes
Teenage Mutant Ninja Turtles (first movie)
You know what, I wouldn't ask for your help if you were the last... thing on the face of this planet. [ to Casey]
Am I behind on my Sony payments again? Ha ha ha.[to the foot Ninja]
I think you know just as much as I do about this Foot Clan and I don't think you're doing anything about it.
Why don't I ever dream of Harrison Ford?
Teenage Mutant Ninja Turtles II: The Secret of the Ooze
The rat is the cleanest one.
Teenage Mutant Ninja Turtles III
This is the worst rescue I've ever had.
Why don't you get a *real* job, cue ball?
You don't mean - you're not seriously suggesting that Donatello is going to make an incredibly arcane time travel machine, are you?
Teenage Mutant Ninja Turtles (1987 cartoon)
I'll be okay... the Turtles always rescue me at the LAST MINUTE...
Teenage Mutant Ninja Turtles (2003 cartoon)
April: Wo ho ho. Michelangelo, you're telling me that you ran into my shop my new just after it was blown by a bunch of foot ninja because you're being chased by a bunch of foot ninja?!
You guys, you've all been, well... great. And by guys, I guess I mean four big, green, talking turtles and a giant talking rat.
Toys
Etymology
Gender:Girl
Origin:Latin
Meaning:Open
Origin:English
Meaning:April
Pronunciation:(AY pril)

April was not taken up as a name until the 20th century, possibly inspired by the French Avril, seen as a variant of Averil.
April 1 is April Fool's Day, when people play light-hearted jokes and hoaxes on one another.
Appearances in Video Games
April has appeared in several video games mostly as the damsel in distress.
April was captured by the Foot. Once rescued, she gives you her support as the TMNT must now deactivate bombs the Foot set to blow up a dam. Though April sends her support.. it really doesn't do anything in the game.
Released for Arcade/Commodore 64/DOS/PC/ZX Spectrum/Amstrad/CPC/Amiga. On the NES it was renumbered as 2 (II).
April is trapped in her burning apartment and must be saved. But before you can do that, Shredder nabs her. Later on she's being held by Bebop and Rocksteady (In the NES Remake she is being held by Baxter Stockman in his Mutant Fly form). After being rescued, she kisses the Turtle that saved her (the one with the highest score up to that point) on the forehead and drives them around the Turtle Van, before she crashes it onto a ledge. Um.. while the Turtles jump right out in pursuit of a kidnapped Splinter.. they never do show what happened to April...
For Game Boy.
April is once again captured by the Foot, and the TMNT must rescue her.
A PC game.
She informs the turtles of the current state of crime in the city and helps the turtles find out what's going down in the city.
In Arcades and for the SNES. Renumbered as game 4 (IV).
This time April isn't captured (GASP!) but is present when Krang appears to steal the Statue of Liberty. In the SNES version, staying still too long makes April appear to remind the player he has to move. In the arcade version, Splinter did this. She also appears durime Boy Advance version of the movie game. She (along with Splinter and Casey) gives the player mini-games, as well as appearing throughout the cutscenes based on the movie.
April is a fully-playable base character, with her appearance from the 2007 movie but voiced by Veronica Taylor. She wields a single katana sword and is designed as an "Agile" character with above average speed but low attack power.
See also