YOU'RE NOT ON 
 NICKTOONS 
 ANYMORE! 

Some TMNT stuff really isn't for little kids.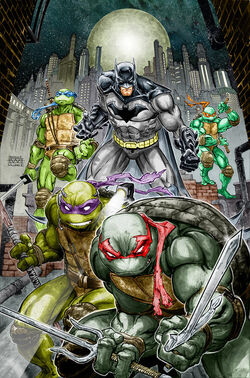 Batman/Teenage Mutant Ninja Turtles is a 6-issue comic mini-series, bringing the Ninja Turtles to Gotham City in the DC Universe to meet Batman.
Official Synopsis
In the ongoing power struggle between the Teenage Mutant Ninja Turtles, General Krang, and the Foot Clan, allegiances have shifted and the battle lines have been drawn. Krang concocts a plan to rid himself of both the Turtles and Shredder by transporting them to another dimension, where they land in the dark and dangerous streets of Gotham City. It isn't long before they encounter Gotham's most famous resident, Batman. The Caped Crusader may be their only hope of overcoming their enemies and getting back home, but not before they encounter a whole cast of Gotham's most infamous rogues.
Issues
Gallery
Also See
Ad blocker interference detected!
Wikia is a free-to-use site that makes money from advertising. We have a modified experience for viewers using ad blockers

Wikia is not accessible if you've made further modifications. Remove the custom ad blocker rule(s) and the page will load as expected.