Bebop and Rocksteady's Gang
Talk

0
2,076pages on
this wiki
Bebop and Recksteady's gang was a gang of street punks who were mutated by the Shredder using the mutagen made by Krang. Bebop and Rocksteady's gang were seen in Season 1, 3 and 5 of the 1987 TV series, and in "Heroes in a Half-Shell, Part 1" in the Archie Comics series.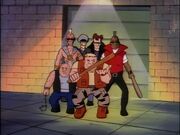 Gang Members
Edit
Bebop: An American African Punk who first appeared in "Turtle Tracks." Was turned into a Warthog.
Punk with Blue Leather Jaket: A member of the gang, unamed.
Gangster:1: A Female That is in Lugnut's Gang. She wears Sunnys and and Bra.
Gangster:2: An American African Punk.
Minnored Punk: Only Appears in Turtle Tracks. He resembles a Fatter and Shorter Version of Lugnut.
American African Punk: In Lugnut Gang.
It is unknown why Bebop and Rocksteady's original gang were mutated but never were used.
It is also unknown what happened after Shredder & Splintered, but it was seen that Scrag was briefly turned back into a human, when Shredder was on the TV Talking to the Turtles and Splinter and showed them what will happen if a mutant is hit by his Retromutagen Ray Generator. But he is seen as a bat again later when he is in a cage with the other mutants. Lugnut and gang members from "The Gang's All Here" appear in "Once Upon a Time Machine." But it is not said what happened to the other members of the gang.