Big Mouser
Biographical information
Abilities

Lasers, Mouser reproduction

Affiliation
Physical description
Species

Robot

Eye color

Pink and black

Out of universe information
Era(s)
Publisher
First appearance
Teachers and Students

  [Source]
Big Mouser is a boss character appearing in the 1989 TMNT video game. It is the first in a line of oversized Mousers that appear in video games, followed by Mother Mouser, Giant Mouser, and Cerberus Mouser.
Big Mouser is several times larger than the player character, and is completely stationary. It attacks solely by firing lasers from its eyes and spawning standard Mousers from its mouth. Its weakpoint is the light inside its mouth, which is revealed when it releases the Mousers.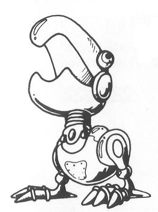 In the instruction manual, it is joked that it turned to a "life of slease" after being booted from the Mouseketeers.