HEY, KID, YOU'RE 
 A LONG WAY 
 FROM NICKTOONS! 

Some TMNT stuff was always meant for grownups.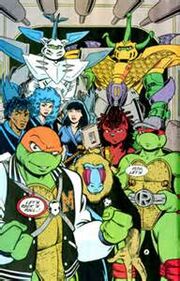 Bob was a mutated anthropomorphic baboon featured in the Archie Comics as one of Leonardo's future students. Bob in particular seemed to have an "extended family" relationship with the Turtles, referring to them as his "uncles".
Ad blocker interference detected!
Wikia is a free-to-use site that makes money from advertising. We have a modified experience for viewers using ad blockers

Wikia is not accessible if you've made further modifications. Remove the custom ad blocker rule(s) and the page will load as expected.