HEY, KID, YOU'RE 
 A LONG WAY 
 FROM NICKTOONS! 

Some TMNT stuff was always meant for grownups.
Gnatrat
Biographical information
Aliases

Gnatrat, The Fannywhacker, Darerat

Abilities

Insanity

Physical description
Species

Anthropomorphic Rat

Gender
Hair color

Gray

Eye color

Squinty

Out of universe information
Era(s)
Publisher
First appearance

Gnatrat: The Dark Gnat Returns

Created by
Teachers and Students

  [Source]
Boo Swain (alias: Gnatrat) is a Bruce Wayne (and Batman) parody created by Mark Martin. He first appeared in Gnatrat: The Dark Gnat Returns.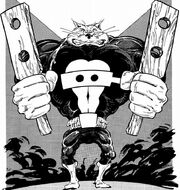 Gnatrat is a central character in Totally Hacked! where he is initially The Fannywhacker (a Punisher parody) in the alternate peaceful reality created by Dale Evans McGillicutty's alterations to the past. At some point Dale told him about the Skwals (probably including George), although this wasn't shown onscreen.
His appearance in the TMNT comic takes place after "Dark Gnat Returns" and before "Happy Birthday Gnatrat". This was a period in 1995. After being sent back roughly 2 million years in Dale's time machine, where he assaults the Homo Habilis she helped out to restore humanity's ancestors' violent impulses.
The Time Cube breaks down on his return trip, depositing him in 1988 where he meets Splinter who was in the middle of watching Speed Racer. Eventually through interaction with him, the Turtles and Supperman, he is returned to 1995 to meet Dale again.
Ad blocker interference detected!
Wikia is a free-to-use site that makes money from advertising. We have a modified experience for viewers using ad blockers

Wikia is not accessible if you've made further modifications. Remove the custom ad blocker rule(s) and the page will load as expected.