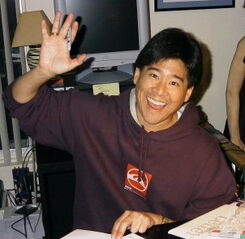 Brian Tochi was the voice of Leonardo in the first three live-action TMNT feature films; the original Teenage Mutant Ninja Turtles, Teenage Mutant Ninja Turtles II: The Secret of the Ooze, and Teenage Mutant Ninja Turtles III.
He has voiced characters in many other animated TV series and animated films.
He is most noted for live action films and television, more specifically he played Takashi in the original Revenge of the Nerds and two of its sequels, he was the star of several TV series, and guest-starred in many episodic television shows.
Ad blocker interference detected!
Wikia is a free-to-use site that makes money from advertising. We have a modified experience for viewers using ad blockers

Wikia is not accessible if you've made further modifications. Remove the custom ad blocker rule(s) and the page will load as expected.