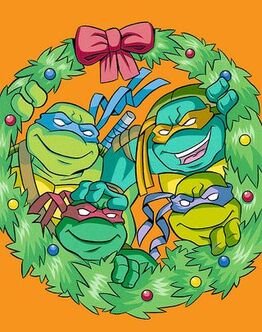 Christmas
is a Christian holiday, that is celebrated on 25 December within Roman Catholic and Protestant traditions, and on 7 January within Orthodox Christianity. Celebrations are based around the Bible telling about the birth of Jesus in the town of Bethlehem.
Among the secular traditions are eating Christmas food, giving each other presents, singing and dancing together, decorating a Christmas tree and baking.
The Mirage Comics includes a story called The Christmas Aliens[1], which was even adopted for the 2003 TMNT cartoon.[2]
The story was later reprinted as "Michaelangelo Christmas Special" which contained the short story A Christmas Carol.
Even What Goes Around... ...Comes Around!  in the Mirage Comics begins on a Christmas Eve.[3]
As does it's follow up Silent Partner.
Return to New York also takes place on Christmas in the Mirage Comics.
Tales of the Teenage Mutant Ninja Turtles issue #40 Silent Night takes place on Christmas Eve.
Tales of the Teenage Mutant Ninja Turtles issue #53 Alien Invaders takes place on Christmas.
It also contains the back up story Ghosts of Christmas Past
Tales of the Teenage Mutant Ninja Turtles issue #64 Cold, Cold Ice takes place on Christmas.
In the 1987 TMNT cartoon, Krang says that he wants MACC seeing the robot on TV, and Rocksteady says he may get one by Santa Claus for Christmas.
Teenage Mutant Ninja Turtles Magazine has a story called "Twas the Night Before Christmas…"
We Wish You a Turtle Christmas is a 25-minute, live-action Christmas special released direct-to-video in 1994.
The Christmas theme book The Santa Snatcher was released in 2004.
Teenage Mutant Ninja Turtles New Animated Adventures #18 contains a Christmas themed story called "Secret Santa"
Merry Mutants! is a Christmas themed book published in 2016.
IDW Publishing released the TMNT Christmas Special in 2016. Additionally, the prologue of Enemies Old, Enemies New takes place on Christmas.
References
Ad blocker interference detected!
Wikia is a free-to-use site that makes money from advertising. We have a modified experience for viewers using ad blockers

Wikia is not accessible if you've made further modifications. Remove the custom ad blocker rule(s) and the page will load as expected.