HEY, KID, YOU'RE 
 A LONG WAY 
 FROM NICKTOONS! 

Some TMNT stuff was always meant for grownups.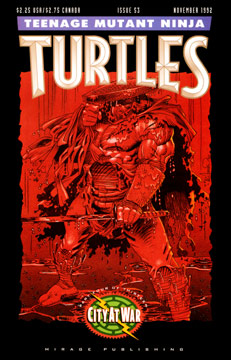 The fourth part of City at War.
#53
Story: Kevin Eastman & Peter Laird
Script: Peter Laird & Jim Lawson
Pencils: Jim Lawson
Inks: Matt Banning
Lettering: Mary Kelleher

Synopsis
To be added
Notes
Ad blocker interference detected!
Wikia is a free-to-use site that makes money from advertising. We have a modified experience for viewers using ad blockers

Wikia is not accessible if you've made further modifications. Remove the custom ad blocker rule(s) and the page will load as expected.