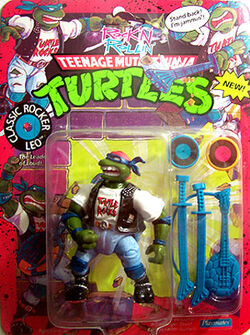 The Leader of Loud!
Accessories: Record Flyin' Discs, Turtle-textured Guitar, Katana-caster Guitar
Longest Solo: 40 days – entitled "My Fingers Are Stuck – Really Guys, I'm Not Kidding!"
Favorite Song: "Ninjas Are Nice"
Come on, baby! It's Leo, the Classic Rocker – and he's got somethin' to say. He's a rebel with a riff who rocks around the clock. Too cool to be a fool, Leo's loose as a goose and ready to juice. This retro-rocker's got a groovy greased guitar to start any joint hoppin'. But look out! If any Foot dare crash Leo's bash, he's ready with his studded straps, buckled boots and killer katana-caster. So kick back and swing and sway to the mutant sounds that are comin' your way! Classic Rocker Leo, the leader of loud, is here to stay!
Ad blocker interference detected!
Wikia is a free-to-use site that makes money from advertising. We have a modified experience for viewers using ad blockers

Wikia is not accessible if you've made further modifications. Remove the custom ad blocker rule(s) and the page will load as expected.