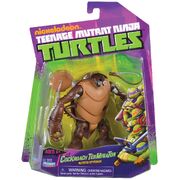 Mutated Spyroach

Description
Meet the biggest and toughest insect ever! Cockroach Terminator was once Donnie's little spy before falling into a container of Mutagen Ooze and mutating into an unstoppable monster. He is ready to destroy anything that crosses his way, including the Turtles. Anyone who pesters this insect should be ready to get stung!
Weapons: Saw Blade/ Kraang Blaster/Donatello Spy Gear
Team: Kraang Evil Aliens
Accessories
Attachable anthena
Removable saw blade
Articulation
Swivel Neck
Swivel Hinge Shoulders
Swivel Hinge Elbows
Swivel Hinge Hips
Notes
It was released a second version of the Cockroach Terminator, a color variant, with a brighter torso with an orange wash, the cockroach eye had a clearer shade of black in comparison to the first version and the silver piece, on the back of the first version, is not painted on the second.
Gallery
Ad blocker interference detected!
Wikia is a free-to-use site that makes money from advertising. We have a modified experience for viewers using ad blockers

Wikia is not accessible if you've made further modifications. Remove the custom ad blocker rule(s) and the page will load as expected.