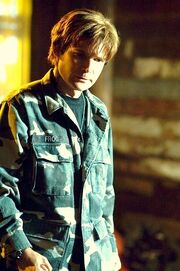 Corey Feldman (born July 16, 1971; 46 years old) is the voice actor for Donatello in Teenage Mutant Ninja Turtles I and III live action movies. He also voices Slash in the 2012 TV series. He co-starred with Sean Astin as Goonie member Clark "Mouth" Devereaux in the 1985 movie The Goonies.
Movies and TV Shows
He has had many roles such as:
Edgar Frog - The Lost Boys and its sequel Lost Boys: The Tribe
Pete Fountaine - Gremlins
Tommy Jarvis - Friday the 13th: The Final Chapter and Friday the 13th: A New Beginning
S.P.R.X 77 - Super Robot Monkey Team Hyper Force Go!
Clark "Mouth" Devereaux - The Goonies
Teddy Duchamp - Stand By Me
Ad blocker interference detected!
Wikia is a free-to-use site that makes money from advertising. We have a modified experience for viewers using ad blockers

Wikia is not accessible if you've made further modifications. Remove the custom ad blocker rule(s) and the page will load as expected.