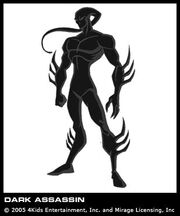 The Dark Ninja Assassins worked for Drako and the Ultimate Ninja in the 2003 TV series. Drako first used them to attack Splinter after he lost a Battle Nexus match to him. But Splinter was assisted by Miyamoto Usagi and the Daimyo, who chased Drako and his assassins off with his War Staff. Later Ultimate Ninja used them in an attempt to kill Leonardo, the Daimyo, blame Splinter, and install the Ultimate Ninja as Daimyo.
Appearances
Ad blocker interference detected!
Wikia is a free-to-use site that makes money from advertising. We have a modified experience for viewers using ad blockers

Wikia is not accessible if you've made further modifications. Remove the custom ad blocker rule(s) and the page will load as expected.