YOU'RE NOT ON 
 NICKTOONS 
 ANYMORE! 

Some TMNT stuff really isn't for little kids.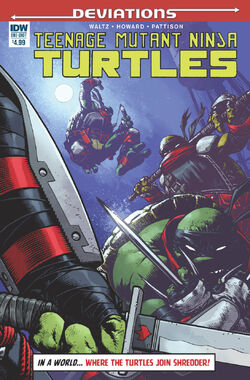 Teenage Mutant Ninja Turtles: Deviations is a one-shot issue from IDW Publishing. It is part of the Deviations line, a series similar to Marvel's "What If?" line - detailing an alternate scenario in a previous storyline.
In TMNT: Deviations, Shredder and Kitsune brainwash all four Ninja Turtles, as opposed to just Leonardo. Splinter must gather together a team to defend against Shredder and his new chunin.
Characters
Major Characters
Minor Characters
Trivia
Despite appearing on the alternate cover, Bebop and Rocksteady do not feature in this issue.

Casey, too, appears on this same cover in the heap of defeated heroes, despite having been killed prior to the events of the issue.
Ad blocker interference detected!
Wikia is a free-to-use site that makes money from advertising. We have a modified experience for viewers using ad blockers

Wikia is not accessible if you've made further modifications. Remove the custom ad blocker rule(s) and the page will load as expected.