Dimension X
Talk

4
2,075pages on
this wiki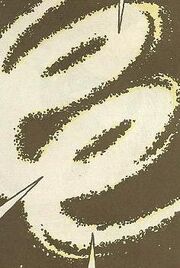 Dimension X
is an
alternate dimension
that was home to the evil alien
Krang
in the
1987 series
and
Archie Comics
. Krang used the
dimensional portal
inside the
Technodrome
for transportation between Dimension X and the
Earth
, though other portals and other means of travel are occasionally seen.
Natives/Resident
Edit
Locations in Dimension X
Edit
Dimension X Penitentiary
Edit
The Dimension X Penitentiary was where some of the worst criminals of Dimension X were imprisoned. Convicts include Skaarg, Dementor, and the Dregma Brothers. Unfortunately, the penitentiary was not protected against dimensional portals. (Convicts from Dimension X)
Eden worlds
Edit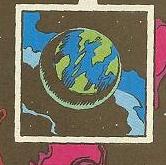 The Eden worlds are planets that were reminiscent of the wilderness of East Africa where most "intelligent" species were forbidden to live on those planets. Cherubae sent Bebop and Rocksteady to an Eden world, so they could not do more "bad things". (Teenage Mutant Ninja Turtles Adventures)
Huanu was a planet that orbited a red star sun. It was the homeworld of Wingnut and Screwloose and their respective races, until Krang assaulted the world, destroying it and all its inhabitants, save the pair, who escaped and swore revenge on the warlord.
Palmadise
Edit
Palmadise was a planet covered in palm trees, and home to Slash. The planet was deforested by the order of the galactic president, who demanded all the palm trees to use as wood for his fireplace. Its current state is unknown.
Stump Asteroid
Edit
The Stump Asteroid was the home of Stump and Sling. From this asteroid, they hosted the Stump & Sling Intergalactic Wrestling, in the Stump Arena. Another alien, Cudley the Cowlick, was in charge of transporting the wrestlers to and from Stump Asteroid. In addition to the Turtles, who wrestled at Stump Asteroid twice, famous wrestlers include Ace Duck, Bloodbath, Cryin' Houn (who later changed his name to El Mysterio) and Leatherhead. (Teenage Mutant Ninja Turtles Adventures)
Neutrino's homeworld
Edit
The Neutrino's homeworld was the home to the Neutrino people. It was the target of an invasion ordered by Krang, led by General Traag. (Four Turtles and a Baby)
Rocky planet
Edit
This rocky planet was the site where the Technodrome was located on a rocky landscape. (1987 cartoon series, Season 2)
Volcano asteroid
Edit
This rocky asteroid was the site where the Technodrome was later located, with had a prominent volcano. (1987 cartoon series, Season 4)
Background
Edit
A bit of controversy exists on whether Dimension X really is an alternate dimension, or if it is a distant galaxy. The cartoon and Archie comics provide arguments for both sides.
Whenever a character refers to it directly, it is called Dimension X. The devise used to travel between Earth and Dimension X is called a "dimensional portal", meaning that it allows travel between dimensions. In the cartoon episode Splinter No More [1], The Shredder tried to use an ancient magic spell to open a portal to Dimension X, Krang warned him that there are other, more terrifying dimensions that he could accidentally access. In the episode Bye Bye Fly [2], it is explained that travel to Dimension X can also be achieved using a "dimensional warp drive". Interplanetary space in Dimension X has a red-orange color. Furthermore, several characters are seen outdoors in space or walking on asteroids without any form of protective gear, something that would kill them in normal space.
There is sound in space in Dimension X, something that is impossible in normal space. However, most science-fiction shows make the mistake of having sound in space, so this argument taken alone is unconvincing.
Although it is never referred to as Galaxy X, some lines of dialogue hint that it is a galaxy called Dimension X. For example, when the Shredder opens the dimensional portal in the episode Hot Rodding Teenagers from Dimension X, he says that "all weapons from the distant galaxies will belong to me". Later, when the Shredder takes the crystal from the two kids in the episode It Came from Beneath the Sewers [3], one of the kid asks him from where he came from. He answers that he's "from Dimension X, in a distant galaxy". Additionally, Krang tries to take energy for the Technodrome in the episode Super Hero for a Day [4], he says that they need energy from power plants too, because of the distance. There is no distance between alternate dimensions. The Technodrome is located in Dimension X in this episode.
In issue 12 (The Lost World) of the Archie TMNT comics, Krang, Shredder, Bebop and Rocksteady go from Earth to Dimension X by spaceship, without using a dimensional portal. In the same issue, when they reach Dimension X, it is shown to be a spiral galaxy. A similar view of Dimension X is used in issue 23 (Search and Destroy) and issue 25 (Raw Power).
In the crossover comic book The Teenage Mutant Ninja Turtles meet the Archies the flying-cow-head character known as Cudley explains that Dimension X is separated from the TMNT Earth by space, whereas the world that Riverdale exists in is separated from their world by time.
The Archie cartoon also has space travel to Dimension-X in the episode Bye-Bye Fly. Baxter Stockman tries to use a damaged pan-dimensional warp drive to fly to Dimension-X in an alien spaceship. He fails to reach Dimension-X but ends up in another galaxy where he faces an alien spider.. Krang said he "could fly the Technodrome anywhere even Dimension-X" with the pan-dimensional warp drive.
One possible answer to the controversy is that the name Dimension X means two different things. Since Dimension X is a parallel universe, Krang might come from a spiral galaxy that's both far away from Earth and also located in Dimension X, and this galaxy is also being referred to simply as Dimension X..