Dirk Savage: Mutant Hunter
Talk

0
2,058pages on
this wiki
"

Dirk Savage: Mutant Hunter

"
Teenage Mutant Ninja Turtles (1987) episode

Dirk Savage
Season Code:
7
Episode:
12
Original airdate
December 4, 1993
Written by
David Wise
Producers:
"Dirk Savage: Mutant Hunter" is an episode of the Teenage Mutant Ninja Turtles.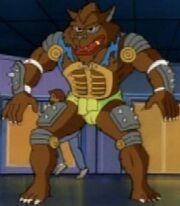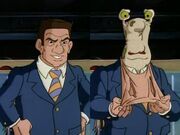 Information
Edit
Characters
Edit
Secondary Characters
Edit
Locations
Edit
Plot Synopsis
Edit
With the numerous attacks by mutants all over the city, local eccentric billionaire A. J. Howard has hired Dirk Savage, a professional mutant hunter to capture all the mutants. The Turtles are enraged by Dirk Savage, but Splinter advises them that an enemy might come to their aid. However, this is just a ploy, because as it turns out, A. J. is a mutant. The first part of his plan is for him to turn the captured mutants as his personal soldiers, then he wants to convert all humans into mutants. When the Turtles learn of this, they need to enlist Dirk Savage's help to defeat Howard. Together the Turtles and Dirk Savage foil A.J. Howard's plan to enslave New York City.
First and only appearance of Tokka and Rahzar in the series.
This is the final appearance of the Punk Frogs.
This is the second and final appearance of Mondo Gecko.
Among the captured mutants are a female giraffe, what appears to be a crane scientist, and several others, most of them mammals or birds.
This is the first episode to have a major focus on mutants.