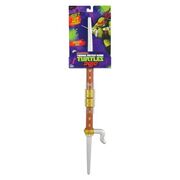 In order to become a true Ninja Master, you have to train first! These soft foam ninja weapons allow you to Turtle-up and safely practice your ninja skills. Do you have what it takes to be a Ninja Turtle?
Description
Train up like Raphael with this set of soft foam twin sais!
Trivia
Despite being referred to as "sais" (sic), they more resemble Jitte, as they lack a third prong.
Gallery
Ad blocker interference detected!
Wikia is a free-to-use site that makes money from advertising. We have a modified experience for viewers using ad blockers

Wikia is not accessible if you've made further modifications. Remove the custom ad blocker rule(s) and the page will load as expected.