Fire Mystic
Biographical information
Home
Nickname(s)

Fire Ninja

Abilities

Elemental fire manipulation

Weapon(s) of choice

Mystic Fire, Double-ended Triple-headed Blazin' Bo Staff

Occupation

Herald of the Shredder

Affiliation
Physical description
Species
Gender
Height

6' (with shoes)

Weight

123 lbs.

Out of universe information
Era(s)
Voiced by
Teachers and Students
Teacher(s)

Tengu Shredder

  [Source]
The Fire Mystic was one of the five Foot Mystics who are loyal to the Tengu Shredder in the 2003 TV series.
Powers
The Fire Mystic can create large flames and fireballs that packs a burning touch and explosive power.
Appearances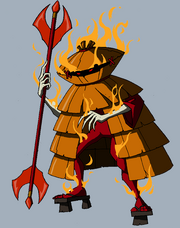 His first appearance is in the episode Return to New York, Part 2. He later appears in several episodes of the 2003 TV series.
The Fire Mystic also appears in the 2003 Teenage Mutant Ninja Turtles video game, and the DS version of Teenage Mutant Ninja Turtles 3: Mutant Nightmare. Two Fire Mystics serve as the third boss in Teenage Mutant Ninja Turtles: Battle for the City; though they wear gear similar to the Metal Mystic, they shoot fire from their weapons.
The Foot Fire Mystic toy was released in 2004. He is the only Foot Mystic to have an action figure.
Ad blocker interference detected!
Wikia is a free-to-use site that makes money from advertising. We have a modified experience for viewers using ad blockers

Wikia is not accessible if you've made further modifications. Remove the custom ad blocker rule(s) and the page will load as expected.