YOU'RE NOT ON 
 NICKTOONS 
 ANYMORE! 

Some TMNT stuff really isn't for little kids.
Cover
:
Dan DeCarlo
and
Ryan Brown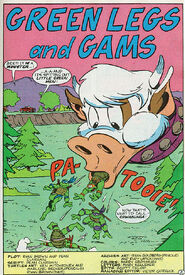 Plot: Ryan Brown
Script: Dean Clarrain
Turtles Art: Ken Mitchroney and Marlene Becker
Turtles Inks: Ryan Brown
Archies Art: Stan Goldberg
Archies Inks: Rudy Lapick
Colors: Barry Grossman
Letters: Mary Kelleher
Edits: Scott Fullop
Managing Editor: Victor Gorelick
First Printing: Spring, 1991
Number of story pages: 23
Major Characters: Donatello, Michaelangelo, Raphael, Leonardo, Cudley the Cowlick, Archie Andrews, Jughead Jones, Veronica Lodge, Betty Cooper, Reggie Mantle
Minor Characters/Cameos: Moose Mason, Chuck Clayton, Dilton Doiley, Hot Dog, Josie and the Pussycats
Printed in: Teenage Mutant Ninja Turtles Meet Archie
Synopsis
Cudley the Cowlick drops the TMNT off in the world of Archie Andrews and his friends. The TMNT have to help Archie save Veronica from her kidnappers.
Trivia 
The title Green Legs and Gams is a play on words from Dr. Seuss' Green Eggs and Ham.
Ad blocker interference detected!
Wikia is a free-to-use site that makes money from advertising. We have a modified experience for viewers using ad blockers

Wikia is not accessible if you've made further modifications. Remove the custom ad blocker rule(s) and the page will load as expected.