Griddex
Biographical information
Home

Alternate New York City

Abilities

Size-Shifting

Occupation

Superhero

Affiliation
Physical description
Species
Gender
Eye color

White

Out of universe information
Era(s)
First appearance
Voiced by
Teachers and Students

  [Source]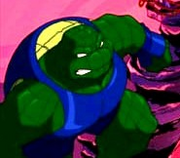 Griddex is a superhero Turtle from an alternate reality. He is Raph's alternate dimension counterpart. He has the powers to change his size and wears a blue spandex suit. He first appeared in the 2003 series episode Reality Check.
Ad blocker interference detected!
Wikia is a free-to-use site that makes money from advertising. We have a modified experience for viewers using ad blockers

Wikia is not accessible if you've made further modifications. Remove the custom ad blocker rule(s) and the page will load as expected.