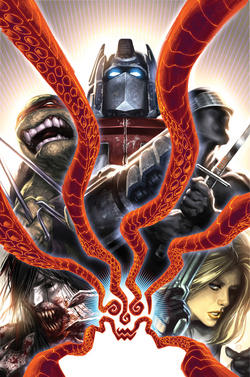 YOU'RE NOT ON 
 NICKTOONS 
 ANYMORE! 

Some TMNT stuff really isn't for little kids.
Infestation 2 is the name of a company-wide crossover event in 2012 featuring multiple IDW Publishing licensed properties including Teenage Mutant Ninja Turtles, Transformers, G.I. Joe, Danger Girl, 30 Days of Night, and Weekly World News. The storyline concerns the invasion of Lovecraftian monsters across various universes. The previous Infestation event, made prior to the launch of the IDW Teenage Mutant Ninja Turtles comics, dealt with zombies.
Tristan Huw Jones wrote the Teenage Mutant Ninja Turtles issues.
Issues featuring TMNT
Edit
Transcript
Edit