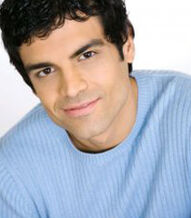 Jason Adam Griffith
(born November 29, 1980) is an American voice actor for the
2003 animated series
, related
video games
and
Turtles Forever
. He was the voice of SEGA mascot
Sonic the Hedgehog
, as well as Shadow the Hedgehog and Jet the Hawk, in the Sonic the Hedgehog video game series, where he is credited as Jason Griffith and Adam Caroleson, before the role was passed to
Roger Craig Smith
. His role as Shadow was later passed to Kirk Thornton. He is currently playing the voice of Cilan, Ash's new traveling companion and first Gym Leader in Pokémon: Black & White.
He is often mistakenly credited on the internet as Jason Anthony Griffith (all of his credits in actual products are under just Jason Griffith or Adam Caroleson). Jason Anthony Griffith is a different actor altogether.
Voices
External Links
Ad blocker interference detected!
Wikia is a free-to-use site that makes money from advertising. We have a modified experience for viewers using ad blockers

Wikia is not accessible if you've made further modifications. Remove the custom ad blocker rule(s) and the page will load as expected.