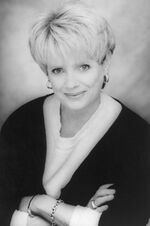 Jennifer Darling
(born June 19, 1946 in Oklahoma City, Oklahoma; 71 years old) is the American voice actress for
Irma Langinstein
and
Buffy Shellhammer
in the
1987 TV series
. While her body of work as a voice-over artist greatly eclipses that of her on-stage career, she is, perhaps, nevertheless known best to most people as Peggy Callahan, the secretary to Oscar Goldman in the television series The Six Million Dollar Man and The Bionic Woman.
External Links
Ad blocker interference detected!
Wikia is a free-to-use site that makes money from advertising. We have a modified experience for viewers using ad blockers

Wikia is not accessible if you've made further modifications. Remove the custom ad blocker rule(s) and the page will load as expected.