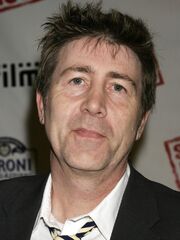 James Anthony "Jim" Piddock (born 8 April 1956) is an English actor, writer, and producer who began his career on the stage in England, before emigrating to the U.S. in 1981.
Piddock made his theatrical debut in the U.S. in The Boy's Own Story, a one-man show about a football (soccer) goalkeeper, at the Julian Theatre in San Francisco. The show won Piddock the Bay Area Critics' Best Actor Award. The show was then produced Off-Broadway. That same year (1982), he was cast in Noël Coward's Present Laughter, and other Broadway and Off-Broadway shows followed, including the original US production of Noises Off, The Knack at the Roundabout Theatre, Make and Break, and Design For Living.
"I spent the first few years of my career pretty much doing nothing but stage work. I started in rep companies in England then did a one-man show in the U.S which led very quickly to doing several Broadway shows. I got very lucky early on. They were fun shows to do. I was in the first ever production of 'Noises off' in America and my first ever job in New York was being directed by and appearing with George C. Scott", Piddock said. In the '80s, Piddock moved to Los Angeles where he pursued work in Television.
In November 2007, he was seen onstage at the Ricardo Montalbán Theatre in Hollywood, starring in a work-in-progress production of What About Dick? alongside an all British expat cast, including Billy Connolly, Tim Curry, Eric Idle, Eddie Izzard, Jane Leeves, Emily Mortimer and Tracey Ullman. When that play finally officially premiered in 2012, he was again in the cast.[6] He also appeared in 2009 at the Montalban Theatre and on Broadway in "An Evening Without Monty Python".
Following a successful stint as a stage performer, Piddock started successfully carving out a career for himself as a TV actor. "I'd always wanted to end up working in film and TV. I guess I could have stayed in New York and probably had a long and fruitful career in the theatre but in the mid-1980's I felt like it was time to change gears and I'd certainly not been short-changed in terms of getting to perform live", Piddock said of his transition into television. Piddock is well known for his many, varied performances on a vast array of hit TV series. His most recognized character would be that of Paul and Jamie's neighbour, Hal Conway on Mad About You.
He voices Lord Simultaneous, Overmind, and the VX3 Warbots in the 2012 TV series.