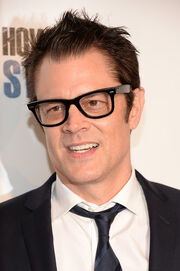 Johnny Knoxville (born Philip John Clapp) is an American actor, comedian, screenwriter, producer, stunt performer. He is best known as a creator and cast member of the MTV television series Jackass.
He voiced Leonardo in the 2014 film reboot, but did not return for the 2016 Sequel.
Ad blocker interference detected!
Wikia is a free-to-use site that makes money from advertising. We have a modified experience for viewers using ad blockers

Wikia is not accessible if you've made further modifications. Remove the custom ad blocker rule(s) and the page will load as expected.