HEY, KID, YOU'RE 
 A LONG WAY 
 FROM NICKTOONS! 

Some TMNT stuff was always meant for grownups.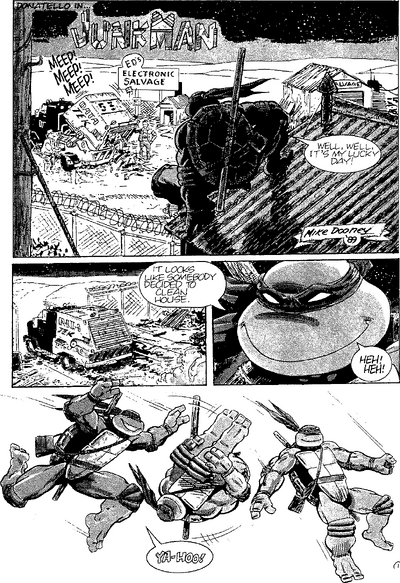 Junk Man is a short story published on December 1989 in Shell Shock by Mirage Studios.
Pages: 10
Credits
Characters
Plot
Donatello goes to a junkyard to find electronic equipment and accidentally releases an alien energy being from its imprisonment. Confusing Donatello for its jailers, the alien attacks him through a temporary body made up of various pieces of junk, until Donatello finds its mate in another prison box. The alien stops in its tracks, and thanks him by walking his junk body all the way into the lair before departing with its mate in energy form.
Reprints
Trivia
Gallery
Ad blocker interference detected!
Wikia is a free-to-use site that makes money from advertising. We have a modified experience for viewers using ad blockers

Wikia is not accessible if you've made further modifications. Remove the custom ad blocker rule(s) and the page will load as expected.