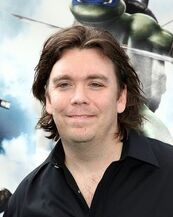 Kevin Munroe
is a Canadian screenwriter, director, and animator. His most well-known work is that of writer and director of
the 2007 TMNT film
. He also had a cameo appearance as a
diner patron
in the same film.
Filmography
Freaky Flyers (2003)
The Ant Bully (2006)
TMNT (2007)
Dylan Dog: Dead of Night (2010)
Ratchet & Clank (2016)
Sly Cooper (TBA)
Ad blocker interference detected!
Wikia is a free-to-use site that makes money from advertising. We have a modified experience for viewers using ad blockers

Wikia is not accessible if you've made further modifications. Remove the custom ad blocker rule(s) and the page will load as expected.