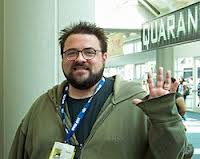 Kevin Smith (born August 2, 1970) is a popular American screenwriter, film producer, director, and actor, as well as a popular comic book writer, author, comedian/raconteur, and internet radio personality. He is most well known for his "View Askew" films, including Clerks, Dogma, and Jay and Silent Bob Strike Back. In most of these films, he not only writes and directs, but also plays the role of Silent Bob. Smith also has written several comic books for well-known characters such as Batman and Spider-Man, and owns his own comic book store, "Jay and Silent Bob's Secret Stash" in Red Bank, NJ.
Kevin Smith voiced the role of the Diner Cook in TMNT.
Ad blocker interference detected!
Wikia is a free-to-use site that makes money from advertising. We have a modified experience for viewers using ad blockers

Wikia is not accessible if you've made further modifications. Remove the custom ad blocker rule(s) and the page will load as expected.