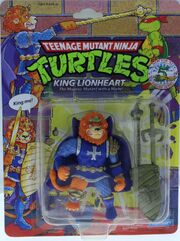 The Majestic Mutant with a Mane!
Lionheart
Nickname(s)

Red Lion

Occupation

King of New York

Affiliation
Physical description
Species

Mutant Lion

Gender
Hair color

Red

Out of universe information
Created by
Teachers and Students

  [Source]
Vital Kingtistics
Accessories: Slap 'em Silly Sceptre, Sovereign Safety Shield, Extra-cool Excalibur, Royal Robe
Height: The length of a ruler
Weight: I don't know, you weigh him.
Good knight, Foot Clan, wherever you are. King Lionheart is on the prowl and taking no prisoners. This royal robed roughcat is the result of Shredder's dirty work. Formerly a Shakespearean actor, Shredder tried turning this cat into "king of the mutants." But the Turtle dudes busted loose this beast before Shredder could give him the ol' whammy. Forever grateful, this King Arthur of the city sewers has joined the Turtles' crusade to wipe out the Foot Clan. He's the master of the slap 'em silly sceptre - and no defense can stop the penetrating power of his extra-cool Excalibur. So join allegiance with King Lionheart - ruler of righteousness and pizza-lovin' lion.
Ad blocker interference detected!
Wikia is a free-to-use site that makes money from advertising. We have a modified experience for viewers using ad blockers

Wikia is not accessible if you've made further modifications. Remove the custom ad blocker rule(s) and the page will load as expected.