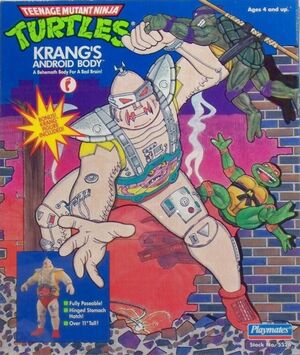 A Behemoth Body For A Bad Brain!
Hold onto your stomach! The bubbling-brain, Krang, is in the belly of the beast! This bald, bad-bellied behemoth of the Foot features techno-electro circuitry, a hinged-stomach hatch, rotating brainwave radar and a riveting robotic grimace. Not to mention he's over 11" tall! This fully articulated towering terror gives Krang real robotic power. And if that's not enough, we've thrown the original Krang figure in as a bonus!
Notes
Despite claiming that the original Krang is included, it's a bit different. While it is the same sculpt, it no longer has the blue veins running along its body.
Ad blocker interference detected!
Wikia is a free-to-use site that makes money from advertising. We have a modified experience for viewers using ad blockers

Wikia is not accessible if you've made further modifications. Remove the custom ad blocker rule(s) and the page will load as expected.