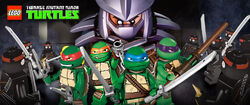 Promotional Sets
Wave 1 - 2013 releases
Polybags
Sets
sets with an alternate build*
Wave 2 - 2014 releases
Polybags
Sets
Juniors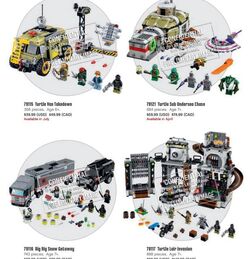 Sets
Notes
Although confirmed months earlier, the Teenage Mutant Ninja Turtles LEGO sets were revealed to the public during the New York Comic-Con on 10/11/2012.
Although the theme was officially launched in January 2013, the sets have been available at Toys R Us, LEGOLAND, the LEGO Store and S@H since December 2012.
Most of the TMNT minifigures have molds that were designed exclusively for them.
The Shredder's Lair Rescue set wasn't announced by LEGO, at first they would release only 7 sets (4 based on the nick series and 3 based on the upcoming movie), fans got surprised when saw an 8th set surfacing.
Minifigures
Vehicles
Ad blocker interference detected!
Wikia is a free-to-use site that makes money from advertising. We have a modified experience for viewers using ad blockers

Wikia is not accessible if you've made further modifications. Remove the custom ad blocker rule(s) and the page will load as expected.