Leonardo
Talk

7
2,075pages on
this wiki
Redirected from Leo
Leonardo
Biographical information
Home

New York City, Earth / McMahons Pet Emporium, Chesabeake Bay,The sewer, The apartment of April, and Jones family farmhouse

Nickname(s)

Leo, Fearless Leader, Splinter Jr., Ghost of the Jungle, Ginsu Master, Leonardo-san, Lameardo, Shadow, Leon, Mister Nardo

Date of birth

Unknown

Weapon(s) of choice

Twin Dual Katanas, Smoke Pellets, Niten Ryu,Blaster,Bow and Arrows,Ninjato,Turtle Fist Daggers,Ninja stars,Kama,Wacky Whip,Silly Sword,Menacing Wace,Katana-caster Guitar,Armadillo club,Bowling Ball Bombs,Pizza Box Bazooka,Sewerclub Nunchuku,Mutant Magnum,Sewer Pipe Billy Club,Chain Claw,Ju-Jitsu Javelin,Pizza Tossin Ninja Star,Sewer Spear,Totally Turtle Tomahawk,Mutatin' Tonfa,Silver Bullet-Shooting Gun,Mutant Mase,Long Tiger Sword,Hideous Harpoon Gun,Terror Tearin' Trident,Kowabunga Classic Phaser,Kowabunga Claw Hammer,Deep Dish Pizza Launcher,Garlick Grindin Power Blaster,Lightning Bolt Katana Blades,Ninja Tek Katana,(Gunshin),Cybernaut Armour,Olympic-level-athletic skill,Mastery of Ninjutsu,Strategic leadership skills,Mastery of Kenjutsu and Laido,Mastery of Swordsmanship.Enhanced Physical abilities throug Chi Manipulation due to training with (Ninja Tribunal)

Occupation

Leader of the Teenage Mutant Ninja Turtles

Affiliation
Physical description
Species
Gender
Height

4'9", 5' 1" (two legs), 5'2", 5' 4", 5'8"

Weight

150 lbs., 155 lbs., 180 lbs.

Hair color

None

Bandana color

Red (Mirage/Image Comics), Blue (other media)

Eye color

Black, Blue, Brown, Green, White

Out of universe information
Era(s)

Mirage, 1987 series, First movie, Second Movie, Third movie, Fourth movie, , Archie, Anime, Image, Next Mutation, 2003 series, Dreamwave comics, Lost Season, Fast Forward

Publisher

Mirage Studios, Archie Comics, Image Comics, Konami, Dreamwave, Ubisoft

First appearance
Created by
Voiced by

Cam Clarke (1987 series)
Brian Tochi (Movies 1-3)
Michael Dobson (Next Mutation)
Michael Sinterniklaas (2003 series)
James Arnold Taylor (Movie 4)
Dan Green (Turtles Forever 87 Leo)
Jason Griffith (Turtles Forever 84 Leo)
Jason Biggs (2012 series)

Teachers and Students
Teacher(s)

Splinter
Ancient One
Ninja Tribunal
•Kon-Shisho
•Juto-Shisho
•Chikara-Shisho
•Hisomi-Shisho

Student(s)

  [Source]
Leonardo is a fictional character that appears in the Teenage Mutant Ninja Turtles comics and all related franchises. In all media, he is the oldest out of the four. He is mostly depicted wearing a blue bandana while his signature weapons are two Katana, though they are frequently mislabeled/depicted as Ninjakens or Ninjatō a fictional weapon with the characteristics as a "straight bladed Katana". In the 2012 Nickelodeon show, Leonardo is wielding a Katana and a Wakizashi, as the proper use of dual wielding is. Leonardo is often believed to be the mightiest warrior of the group and shown to be extremely proficient in all forms of combat. He is shown as the leader of the four turtles and the most disciplined. He is named after the Renaissance artist Leonardo da Vinci.
Appearance
Edit
Leo is a green humanoid turtle-like mutant. He sports a blue bandanna in most appearances and, in his most recent appearance, with white bandages around his knuckles and some around his legs and arms which are brown in color. He sports knee pads and elbow pads. His eyes are blue. Connecting around his chest is a leather sash that hold his swords. He has a shorter neck than his brothers.
Biography
Edit
Main Article: Origin.
Personality
Edit
Leonardo (often known as just Leo, amongst his brothers, April, Casey, and usual comrades), is portrayed as the leader and the oldest brother of the turtles. He is 15. He is dedicated to his Ninjitsu training and to his family and friends. Leo is shown to be extremely selfless, being willing to sacrifice anything to protect the people that he loves. Leonardo is the most collected of the four. Leonardo is fairly modest and sensitive, rarely issuing direct commands and seemingly much more relaxed around his brothers thinking of himself as more of an equal than a leader. Despite his calm and quiet nature he is often at odds with his more hot-headed brother, Raphael. He is also shown to be a perfectionist and frequently blames himself if harm was brought upon people he cares about.
Leonardo trains hard and reads up on strategy to prepare his family for times of distress. He has been accused of having expectations that are too high, but he doesn't agree with that. He loves his family more than life itself, and thus he feels responsible for their safety. Leonardo devotes a large amount of time to his training and often his brothers need to "pull him out of his shell". He is usually calm and rarely loses his temper except when his loved ones are threatened.
Mirage Studios
Edit
Leonardo is depicted as the eldest brother and the calmest of the four. In Volume 1 of the original comic series by Kevin Eastman and Peter Laird, Leonardo plays an important role. At the beginning of the series, he is fifteen. In the early stories, he is not explicitly referred to as leader, though he usually speaks for the team. He is the one to usually take charge of the turtles when Master Splinter is not present. Further in the series, he openly states his position as leader to Raphael in Teenage Mutant Ninja Turtles #44 ("The Violent Underground"), 1992. He is often at odds with his more hot-headed brother, Raphael. He is the team's primary strategist (except in situations related to technology - Donatello's field).
In Leonardo#1, Leonardo goes out for a run on the rooftops of New York City and is ambushed by the Foot Clan. He puts up an admirable fight against the army of Foot soldiers, but is eventually overwhelmed by them and rendered seriously injured and nearly unconscious. He is thrown through April O'Neil's apartment window. The remaining Turtles and Splinter are forced to continue the fight, but even with the aid of Casey Jones, the odds are against them. In the end, the building catches fire and the police arrive, but they secretly escape to Northampton.
In Teenage Mutant Ninja Turtles (vol. 1) #11, when the four Turtles, Splinter, April O'Neil and Casey Jones retreat to a farm house in Northampton, Leonardo recovers physically, but seems despondent and lacking confidence. He repeatedly attempts, unsuccessfully, to hunt for deer. While out hunting, he sees April fall through ice into a lake, and he rescues her. In all subsequent issues, it is implied that Leonardo has regained most of his confidence.
In the storyline, "Return to New York" (Teenage Mutant Ninja Turtles (vol. 1) #19-21), Raphael demands that the Turtles return to New York to confront the Foot Clan and the Shredder, accusing Leonardo of cowardice. The two argue and soon come to blows. Leonardo is beaten by Raphael, who throws Leonardo through the wall of the barn and leaves alone. Donatello and Michaelangelo return to New York shortly thereafter with Leonardo and reunite with their wayward brother in the old sewer lair. The three go along with Raphael's plan to storm the Foot Headquarters. The four Turtles infiltrate the Foot Clan headquarters, where once again Raphael goes off on his own to confront the Shredder, only to be ambushed and beaten by Shredder's Elite Guard. After being rescued by Leonardo, Raphael cedes to Leonardo's leadership out of respect to his older brother and returns to aid Michelangelo and Donatello, leaving Leonardo to fight the Shredder in a battle that spills out onto the rooftop of the building. Leonardo ends the battle by decapitating the Shredder just as the building implodes. The Turtles later burn the Shredder's corpse in a funeral pyre in a nearby Manhattan harbor.
In the "City at War" storyline (Teenage Mutant Ninja Turtles (vol. 1) #50-62), a feud between various factions of the Foot Clan over leadership is fought on the streets of New York with the Turtles and the civilian populace caught in the middle. In the story, Leonardo grows weary of constant battle with the Foot Clan and seems fraught with indecision. The Turtles are approached by Karai, the leader of the Foot Clan in Japan who has come to New York to unite the Foot. She presents the Turtles with an offer of a truce between the Foot and the Turtles if they help her kill the Shredder's Elite Guards, which are a major obstacle to her reorganizing the Foot. Leonardo persuades his brothers to accept Karai's offer (much to Raphael's chagrin) and all four Turtles work with Karai to eliminate the Elite Guard.
In Volume 2 of the Mirage Studios comic, the turtles begin living in separate places. Leonardo decides to live in a newfound sewer lair. Michaelangelo and Raphael notice a change in Leonardo and note that he seems more easygoing, though Raphael points out that his and Leonardo's natural order is to be "buttin' heads."
In Volume 4, Leonardo still leads his brothers (all four now in their thirties) in fights against crime. The conflict between Leonardo and Raphael seems to be greatly lessened as both characters have "mellowed," being in their thirties. When the Utroms make a very public arrival on Earth and reveal alien life to humans, however, the Turtles become free to mingle in everyday society. The Turtles also help the Utroms acclimate to life on Earth and work alongside the Foot Clan as security. Leonardo has a new rival in the Foot Clan, member Cha Ocho, which stems from an encounter they two had years prior. After much of the Foot Clan throughout the world is wiped out by a mysterious warrior leaving only the New York branch intact, Leonardo works with them and Karai to subdue the warrior. His investigation takes him to the Battle Nexus, where he meets Oroku Yoshi (who wears armor similar to the Shredder's).
This incarnation of Leonardo makes an appearance in the Turtles Forever crossover special voiced by Jason Griffith.
Image Comics
Edit
Leonardo was given a similar personality in the Image comic books to his Mirage counterpart (at the time, Image was picking up where Volume 2 left off). In the latter issues of the series, he lost a hand, although this did not seem to deter him significantly. He tried initially to use a prosthetic hand, which was given to him by Donatello, but he much preferred to wear a steel cap which came with a retractable blade. In the current Mirage series, this and other events in the Image Comics series are treated as non-canon, though the series is still referred to as "Volume 3".
In ongoing IDW comics Leonardo join Foot Clan and became Shredder's new second-in-comand and his successor.
Archie Comics
Edit
The Archie Comics series initially began as an adaptation of 1987 animated series, so Leonardo was naturally portrayed like his animated counterpart. In the Archie Comics series, Leonardo had a rather strong dislike for firearms. Also, a future version of Leonardo was depicted, having founded a ninja school. Four of his top students were depicted, Nobuko, possibly his love interest; Miles, a young black man; Carmen, a Latino woman; and Bob, an anthropomorphic baboon. These students seemed to have an "extended family" relationship with the Turtles, Bob in particular referring to them as uncles.
Coming Out of Their Shells
Edit
In the stage show, Leo plays bass guitar and is a backup vocalist.
Television
Edit
1987 animated series
Edit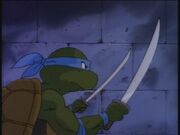 In the 1987 TV series' theme song lyrics, Leonardo is said outright to be the leader of the TMNT, and there is little disputing this; his orders are usually followed, and he is a very serious do-gooder who hardly ever makes wise cracks. In one episode, he suffered a crisis of confidence and left the group to do some soul searching; his brothers all tried their hands at being the leader in his stead, only to find that none of them could match his leadership skills, and he came back to them. He was attracted to a young kunoichi named Lotus Blossom, a swordswoman prodigy from Japan who was hired by Krang to replace Shredder, whom she easily defeated (along with Rocksteady and Bebop). She and Leonardo dueled to a standstill before she resorted to a trick sword to knock him out. When they met the second time, she tried to convince him to join her as "ninja for hire", but he refused. She turned on Krang and escaped to continue her mercenary lifestyle, telling Leonardo that there was little gold in goodness, though she hoped that they would one day be on the same side. This is the only version of the TMNT mythos where Leonardo does not have his sibling rivalry with Raphael.
When the cartoon series starts out, he is shown with having a very level head, akin to his leadership qualities in the comic. However, as the series carried on, he became more reactionary and at times would screech in the very high pitched voice, which was very different from the original, deeper pitch in the first season. This presumably may have been the result of the writers downplaying Leonardo as a hero in favor of Michaelangelo and Raphael, who were more popular with audiences.
Leonardo also seems to enjoy reading. For example, many times when the Turtles are at home, Leo is reading a book. In the episode Four Musketurtles, he is the only Turtle that read The Three Musketeers. Another good example is in Leonardo is Missing; while the other Turtles go to an arcade, Leonardo stays at the lair and reads.
In the season 3 episode Take Me to Your Leader, Leonardo gives up his leadership and walks away after a dream he believes convinces him he is no longer a good leader. The others have to find him, and stop Shredder, Krang, Bebop and Rocksteady from draining energy from the Sun with a Solar Siphon and store it in solar batteries. However, Leonardo returns when he spots a bridge collapsing due to snow. After a man says that everybody talks about the weather but nobody does anything, Leonardo realizes his responsibility and begins to search for his brothers. He later finds them, and together they save the Earth.
In the Season 6 episode Snakes Alive, it is revealed that Leonardo has ophidiophobia (phobia of snakes) but confronted it later.
He was also the most dedicated Turtle towards protecting humanity by the time of the Red Sky episodes, when Raphael and Donatello expressed dissatisfaction towards the people whom they felt abandoned them, Leo would answer that the humans were simply misled by their enemies and that he won't stop doing good simply because it wasn't appreciated.
This is seemingly the only incarnation of the TMNT in which Leonardo's swords are curved, possibly due to problems with animation, thus the term katana could be used.
In the original English language version of the 1987 cartoon show, Leonardo's voice actor was Cam Clarke (who also voiced Rocksteady). Leonardo is generally considered to be Clarke's "breakout role" and is still one of his best known parts. In the Hebrew language version, Leonardo was dubbed by Ido Mosseri.
Ninja Turtles: The Next Mutation
Edit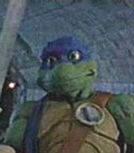 In 1997-1998, Leonardo along with the other Ninja Turtles were featured in this short-lived live-action series. He also carried one double bladed ninjaken instead of two. His sibling rivalry with Raphael drove many episodes. Leonardo still retains his position as the leader, and it has been important to the plot of many episodes of this short-lived and ill-received series. He is the one who reveals to Venus de Milo that the Turtles in this incarnation were not blood relatives.
2003 series
Edit
2012 TV series
Edit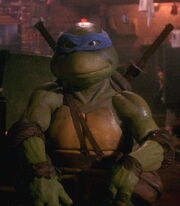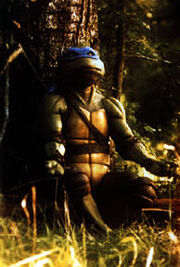 First Film
Edit
In the first TMNT movie, Leonardo was fairly modest and sensitive, rarely issuing direct commands and seemingly much more relaxed around his brothers thinking of himself as more of an equal than a leader; he also joked around with his brothers much more than in other versions of the TMNT. It was he who first communicated telepathically with a kidnapped Splinter in the first movie, but he was not ambushed by the Foot Clan (Raphael was) and seems the most anxious about Raphael's health after his ambush by the Foot Clan, nor did he kill the Shredder. However he fought alongside his brothers against The Shredder in the climatic battle, and he is the only one of the four Turtles to successfully injure the Shredder during their climactic battle, but, like his brothers, could not defeat him. Due to the focus on Raphael in the film's plot, Leonardo's personality was rarely explored and his leader position in the team took a back seat. He was portrayed by David Forman and voiced by Brian Tochi.
Second Film
Edit
In Teenage Mutant Ninja Turtles II: The Secret of the Ooze, Leonardo was much more prominent and his leader position was brought to focus. He is seen on many occasions bickering with Raphael as their sibling rivalry begins to become much more serious. He, like his brothers, was astonished at the return of the Foot but he found that their current homelessness due to their last battle was a more pressing issue and soon he convinced his brothers that they needed to move. Leonardo is once again sensitive, caring, and humorous in this adaptation but he now displays far more aggressive leadership tendencies.
Third Film
Edit
In Teenage Mutant Ninja Turtles III, Leonardo leads helps his brothers back in feudal Japan to go back home after helping a village in trouble from the greedy-western-colony driven man, Walker. Leonardo at this point in the movie series had become less and less of a leader, shouting out wise cracks and goofing off with his brothers a flaw not present in other incarnations of Leonardo. He was the one who defeated Lord Norigana by trapping him within a Japanese Bell before cutting his pony tail off mocking him about a new haircut. Like his brothers minus Donatello, he seemed at home in ancient Japan. In this flim there wasn't much for him to really do, he was just portrayed as a goofball making only a few smart decisions.
In both Teenage Mutant Ninja Turtles II: The Secret of the Ooze and Teenage Mutant Ninja Turtles III, his actor was Mark Caso and he was voiced again by Brian Tochi.
Fourth Film
Edit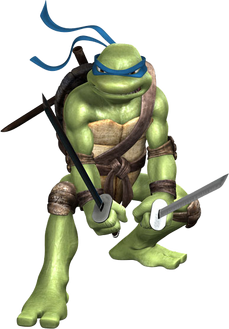 In the Fourth film, Leo was sent away by Master Splinter to hone his skills in becoming a more efficient leader after the Shredder's defeat. April finds him in Central America, and while he was hesitant to return to New York City, he does at the right time to take on the dangerous new force of evil.
His relationship with Raphael is strained due to Raphael feeling abandoned by Leo as well as feeling less appreciated by Splinter. Leonardo's vision of the world is perhaps wider than Raphael's; in the first movie prequel comic, Leo becomes angry with Raphael for trying to leave them in order to save a man from being mugged, because there are four heavily armed Triceratons in the sewers who could cause devastation to the city. He becomes further angered when Raphael deserts them mid-battle to help the old man. This conflict suggests that the two brothers operate on different levels of morality, though neither is necessarily wrong. Raphael states in the comic that he was tired of waiting for disaster to fall on his family, and tired of fighting aliens while people in their own neighborhood are being mugged and murdered. Leonardo, on the other hand, believes that the world of men is the responsibility of the police, while Utroms and Triceratons are their domain, and that they should fight only when there is no one else to solve the problem. This also engages Leo in a contradiction when he stays in Central America, using violence to fight local lawlessness and effectively deserting his brothers because he believes, as Raphael believes, that others need him more. Such parallels suggest that the two brothers are experiencing the same dedication to justice but in different mentality, albeit in very different locales and using different tactics.
In the TMNT CGI movie, Raphael challenges Leonardo after arguing of their own individual sense of justice and the reasons for their actions, Leo also discovers that Raphael is the Nightwatcher, and they engage in an emotional fight. He is defeated when Raphael breaks his swords and pins him to the floor. Raphael almost kills Leo out of anger, then retreats in horror of his own actions due to shame and his brother's deep and confused stare. Leonardo is captured by the Stone Generals and Foot Clan, but is rescued by his family later before the final battle where Leonardo and Raphael finally resolve their differences, Raphael accepting Leo as their leader while Leonardo confesses to needing Raphael. Leonardo is voiced by James Arnold Taylor in this film.
Series relaunch
Edit
Pete Ploszek will be portraying Leonardo in the 2014 reboot.
Teenage Mutant Ninja Turtles First Movie
[of Shredder, who just showed up] Can anyone tell me who or what *this* is?
I never said I was a great leader.
One of these guys must know where they're holding Splinter, so don't knock them all out.
Listen, Raph, about what I said before... you know, about not needing you and all..
[meeting casey for the first time] Who the heck is that
We've had our first battle master splinter. there were many but we kicked. We fought well. 
Hey Raph, where ya going. 
[to a foot ninja trying to run] Hey, where do you think your going.
We were awesome.
Hellicious [then laughs]
[to raph] What do you mean what do we do now. I know splinter's out there. 
What can we do about it. april's out only link to these guys. we have to wait until she comes up with something. 
Well you act like a jerk sometimes ya know that and this attitude of yours isn't helping anything.
Go ahead, we don't need ya.
Hey, hey, he's awake, he wants some food, bring some food.
Put those away [talking to donatello]
Now everybody close your eyes and concentrate. Concentrate hard.
It's time to go back.
Home sweet home.
It's been a long drive Raph, and before we go out advertising to the Foot that were back, we could all use a few hour sleep.
You lie. [yelling at Shredder]
Ohh splinter, we were so worried.
Thanks april, we really appreciate, you know, everything.
No, he's alive, barely.
You coming [to casey]
Were getting out of here.
Take that [after hitting a Foot Ninja]
Gotch ya [before hitting to Foot Ninja's]

Teenage Mutant Ninja Turtles II: The Secret of the Ooze
First, we must observe the ancient ritual of the, uh, uh... traditional pre-fight donut.
A true Ninja is a master of himself and his environment, so don't forget: We're turtles!
Well, if she has, tell him thanks for wasting our time, because instead of going to look for the ooze like we should, we gotta go out and look for him instead! (to April about Raph)
Come on, we gotta meet back up with spliner.
Mikey, would you just stop messing around.
After all these years.
Guys, huddle, huddle.
Professor Perry, what's happening at TGRI now.
Keep your eyes peeled. I don't like this.
Let us out of here.
Get your arm outa my face.
Terrific
Listen april, it's just too dangerous to stay here with you when the Foot are out there. they might be looking for us.
M-Mikey.
The last vial of ooze.
Shredder, ya gotta listen to reason. your gonna destroy us all.
Are you sure this stuff will work.
Hey you table for one.
Ohh yuck.
No prob.
Rock a Bye baby.
And it's well hidden.
Open wide say aahhh
The Foot

Teenage Mutant Ninja Turtles III
Boy, do I hate spinach.
Raph! Give your mouth a rest!
Hey, Tinkerbell. Why don't *you* shoot us? (to Walker)
Fight's over, we're closed.
Hang on Casey, were not gonna do any head breaking this time, sorry guy.
Mikey, why are you wearing shorts
Were turtles, friend
Tuesdays
Hey, where's Mikey
Yeah, an ugly lumb of dung
Yeah, we like to drop in about everey three of four centuries
Are we otta the loup here or what
Lord Norinaga
There, short enough for ya
Hey, Where we get these cloths
What about condos

TMNT (2007 Film)
YOU AREN'T READY! You're impatient, and hot-tempered, and more importantly...I'm better than you! (to Raphael)
Funny thing about anger, let it consume you and soon enough, you lose sight of everything.
I told Splinter I'd get this team in shape again.
At least his personality is still intact. (to Donatello about Raphael)
Come to daddy!
Where not going anywhere without Splinter's blessing!
Raph wait, Splinter told us not to fight!
I want you to know I appretate your intentions but you can't change the world like this! [Leo to NightWatcher]
[to Raph] And this qualifies as fine, dressing up like it's Halloween ever night! I mean come on what were you thinking!
[to Raph]I'm gonna need you too
Mirage Leonardo: We are the Teenage Mutant Ninja Turtles. We strike hard, and fade away into the night.
Today, we're more than allies. We're brothers.
Teenage Mutant Ninja Turtles (2003 TV series)
Remember the ninja code.
[to Lord Hebbe, a giant snake] I hate to mention this, but you don't have any arms. This isn't going to be much of a fight.
In this life, we only have each other. If one of us goes down, we all go down, so focus.
I may die today, but I will NOT live in fear! (Fighting Shredder's elite guard a second time)
Note to self:buy Mikey some new de-odorent.
way to be stealthy Raph
Like Master splinter says,ninja's are always prepared.

Teenage Mutant Ninja Turtles (2012 TV series)
"Raph!"(Yells out his name when hurt)
"Raph cool down."
"Raph, do you think he's had enough?"
"Halt Villain!"
"Relax, we don't want to hurt you."
"Run!"
(After defeating Mikey) "Like that?"
"Can I be the leader?"
(While teasing Snakeweed) "Then come and get me stinkweed!"
"Guys! What part of being in an enemy lair, do you not understand!"
"I decide who gets a beat down" (Moment later) "That guy needs a beat down."
(To Mikey) "You had two! Where do you keep them?"
(To Donnie about Metalhead) "Are you sure? I don't want to break your toy"
(To Pete) "We're talking about actual bread, right?"
(Talking to Raph after he broke off an arm of one of the Kraang)"You, are seriously twisted."
(When April ask them to spy the Kraang) "We can't go now, April. The humans will see us."
"No hard feelings, Raph??"
(Teasing Raph) "What was that??I can't hear you..."
"As your leader, I'm...going to..keep..you all from danger..."
(To Raph) "Not the Foot Clan!!!Karai!!"
"On the second thought, RUN!!!"
"Allright, let's go inside where it's safe" (When they saw many Kraangs) "Ugh...I have to stop saying things like that.."
"If there's one thing we learnt about bad guys is...they love chasing Mikey."
"guys,be quiete.(later)when ninja's are on surveillance they are suppose to be SILENT!
"guys,we're ninja's remember.We move swiftly,and here's the important part,silently.(Falls off roof)AAAAAAAAH.BEEHIVE!!!!!!!!!"
"Alright guys.Lets put old mother hubbard back in her cubbard."
"Lets see how well you do against someone who can see.(karai says:Lets see how well you do against someone who's better then you)Well'see see how you do..against-st...Lets just go!!"
"Chew on that rat-thynks.Oh,come on,that sounded cool"
"Alright guys.Prepare to dish out the mighty rath of justice!"
"Well-as your leader-i am going with you-to lead you-away-from-bad-stuff!"
Raph,if you keep breaking your toys we're not going to buy you new ones
==Video games== every Somali pirate comes from Russia on mars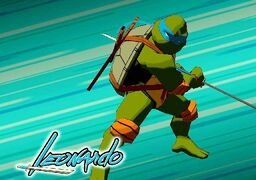 In the video games, Leonardo is the first turtle of choice. He is popular especially for beginner players of the TMNT games. Leonardo is portrayed as well-balanced, having, in all areas, strong but not extreme abilities and no glaring weaknesses. His range is rather long, but not as long as Donatello's; however, Leonardo can usually  inflict more damage. In the
Teenage Mutant Ninja Turtles: Tournament Fighters
games, his moves are the closest to as Ryu/Ken archetype from the Street Fighter franchise. He appears in
TMNT: Smash Up
as a playable character.
Leonardo is playable in the bootleg/homebrew Famicom (NES) game World Heroes 2. His stage in this game is a modified version of Armaggon's from the SNES version of Teenage Mutant Ninja Turtles: Tournament Fighters.
As seen in episode 14 of the third season 'The Darkness Within', Leonardo's greatest fear is the death of his family or people he cares for most.
During the 2003-series Leo has been close to death two times: first when he fell to a coma after being ambushed and beaten by the Foot and then when he was poisoned by The Ultimate Ninja during the Universal Battle Tournament.
The blue in his bandana represents his main emotions:calmness and leadership.
Leo has a crush on Karai, The Shredder's daughter,in the 2012 TV Series, it was shown in "New Girl In Town" and "The Alien Agenda".
Leonardo made a small cameo appearance in the Disney film, Wreck-It Ralph.
See: Leonardo / Gallery
Etymology
Edit
Gender: Male
Origin: German
Meaning: Strong as the lion
Pronunciation: (lee oh NAHR doh); (le oh NAHR doh)