Leonardo (2012 TV series)
Talk

0
2,802pages on
this wiki
Leonardo
Biographical information
Home
Nickname(s)

Leo

Date of birth

1997 (age 15)

Weapon(s) of choice

Ninjato Katana

Physical description
Species

Mutant Turtle

Gender
Height

5'5, 162cm

Weight

150lbs,68kg

Bandana color

Blue

Eye color

Dark Blue

Out of universe information
Era(s)
First appearance
Voiced by
Teachers and Students

  [Source]
Leonardo, or often referred to as Leo, is the leader of the mutant ninja Turtles and the oldest of the brothers, who all share a home in the sewers of New York City. He belongs to a diverse family which consists of three other mutant turtles who are his brothers; Donatello, Michelangelo, and Raphael, and the ratlike Splinter, who serves as the turtles' sensei and 'father'. Due to his excessive dedication towards ninjutsu, (and partly because he asked for it), Splinter chose him to be the leader of the turtles. He wields twin katana, indicated in the series as Niten Ryu.
Personality
Leonardo is the most serious and focused of the team. Being the designated leader of the group, Leonardo is very enthusiastic about his role. He is also a big science-fiction fan (or "nerd" as referred to by Raphael)and ssf5. His favorite series is Space Heroes while his favorite character from the show is Captain Ryan. Leonardo has a habit of memorizing Captain Ryan's best lines from the show and repeating them during battle. Leo is so caught up with Space Heroes that he relies on Ryan's character traits more than on his own intuition which often causes his brothers (especially Raphael) to question his leadership.
For the most part, he tries to be the mature and responsible sibling, but there are times where he can be as childish as his brothers, such as teasing Donatello for losing to a mutant monkey and trying to be like an unrealistic TV character, although Leonardo often tries to comfort his brothers when they are scared or upset, mostly Michelangelo. He comes up with most of the plans and strategies while he and his brothers are fighting bad-guys or training in their Lair. It is also shown that he has a crush on Karai, but loves his brothers more. In one episode, Leo told Karai that if she wanted to fight, she should fight him. He also said if she went after his brothers he'd go after her and kill her himself.
Leonardo is shown to be quite selfless when it counts. Especially shown in Booyaka-Showdown, Part 1 and Booyaka-Showdown, Part 2. During these episodes he almost sacrifices himself twice to save his brothers and the world.
Biography
Fifteen years before the Rise of the Turtles, Part 1, the benevolent Hamato Yoshi purchased four turtles. Yoshi came into contact with a rat and had to fight against a couple of Kraang. The aliens dropped their mutagen causing the mutation of Yoshi and the turtles. Yoshi raised the turtles as his own children and continues to train them in ninjutsu.
Abilities
Leo's bravery, determination, and will-power makes him a great leader. He often tends to fight in a more traditional Japanese martial art style, and is good at countering attacks from opponents. Leo is stealthy like all his brothers, and like them he can hide in the shadows, sneak around without being detected, and use hand to hand combat. Leo's more balanced though, being agile like Mikey, strong like Raph and smart like Donnie. He is highly skilled in the fighting style Niten Ichi-ryū.
To date, his only real flaws as a leader are lack of experience and his teenager status - causing him to occasionally make impulsive decisions that might make the situation worse, as well as his brothers sometimes not obeying his orders, and a desire to be cool that results in him making rather poor taunts in battle, such as introducing the team as the 'Mighty Mutants' or 'Turtles of Justice', or telling a scientist experimenting with a monkey that they'd had enough of him 'monkeying around'.
Weapons
During most of the series, Leonardo wields a pair of twin katanas which, like his brothers with their chosen weapons, he is highly skilled with. In Pulverizer Returns, Splinter says that the boys are getting too reliable on their own weapons, which makes them swap. After this process, Leo is left with Donnie's bō staff. During a fight, the turtles become uncooperative with their new weapons and swap back. When Splinter finds out, he take away all weapons, stating that anything can be useful in battle. When Leonardo and his brothers are trying to save Timothy, Leo uses a pipe and holds and fights with it in a style similar to his Katanas. In Turtle Temper and The Gauntlet, he also used a Yumi bow and like the rest of his brothers wields shurikens.
Relationships
Relatives
Raphael - Leonardo has a love-hate relationship with his brother Raphael. He and Raph argue the most amongst all of the turtles, especially concerning who should lead the pack. However, they share deep respect for one another. In the episode Booyaka-Showdown, Part 1, it is shown that Raphael is very protective about Leonardo and cares deeply for his brother, just like Leo does for him. It is seen that the two trust each other more than the others as seen how they often discuss things privately away from the others such as Leo's issue with Karai.
Donatello - Leo's third youngest brother. He and Donnie rarely fight, but occasionally tease each other throughout the series. He usually gets anxious whenever Donnie completes an invention; one after the other, fearing that Donnie's technology might go wrong at one point. Donnie always outsmarts him, but never in leading purposes, annoying Leo in the process. Overall, they share a wonderful relationship as brothers and best friends.
Michelangelo - Leo's youngest brother. He and Mikey don't fight, unless Mikey's slight dimwittedness irritates Leo, causing him to criticize Mikey's idiocy. Whenever Leo goes through a plan, he occasionally questions Mikey to see if he's really listening. Leo also feels very protective of Mikey, saving him from danger several times. (I.E. Showdown Pt. 2, or Follow the leader, when Leo actually goes back to save Mikey from danger.) Overall, their brotherly-best-friend bond is unbreakable.
Splinter - Leo's surrogate father and sensei. Leo always takes Splinter's advice seriously, even though at times, his stubbornness starts to annoy Splinter. Also, Leo gets confused whenever Splinter uses difficult phrases and quotes while giving away his wisdom, but he always takes it under consideration.
Friends/Allies
April O'Neil - Leo's first human friend. He saves April from the Kraang as seen in the first two episodes of the first season: Rise of the Turtles, Part 1 & Rise of the Turtles, Part 2. They are very good friends, and April was the one Leonardo seeked out when searching for advice regarding his crush on Karai. They normally get along well, but they don't interact much.
Leatherhead - Though they are allies, Leo and Leatherhead almost never interact, apart from fighting the Kraang. Leatherhead seems to interact more with Donnie and Mikey.
Pulverizer - Leo's most trusted ally. Leo never interacted with Pulverizer (Timothy) as much, but he always gets annoyed whenever the Pulverizer tries taking too many risks that could get him injured or even killed (see Pulverizer Returns!) .
Enemies
Shredder - Leonardo's archnemesis. Leo is most aware of Shredder's moves amongst all his brothers, but still fails to fight him well. Shredder is much more experienced at ninjitsu and has more skills that Leo almost always fails to recognize, but Shredder only fails to kill Leo and his brothers, as they keep on escaping to the Sewers of Manhattan, NYC.
Kraang - Leonardo's targeted archenemy. Relationship is unknown.
Baxter Stockman - One of Leonardo's archenemies. Leo tends to forget Baxter's name (examples: "Dexter Backsman", "Daxter Boxman", "Raxter Mackman" etc.).
Fishface - One of Leonardo's archenemies. Relationship is unknown.
Rahzar - One of Leonardo's archenemies. It is a thought that is worried about Mikey battling him. When they find out that Mikey's in danger, he says that they have to save him. He was the one who cut the ropes off Mikey and then pats him on the head.
Quotes
See: Leonardo (2012 TV series) / Quotes
Gallery
See: Leonardo (2012 TV series)/Gallery
Trivia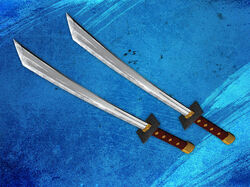 Leonardo's name is Italian, meaning "Strong as the Lion/Lion-Bold".
Niten Ryu is described as Leonardo's weapons, but it is in fact a fighting style, and not a weapon. A two-sword setup is properly known as a daisho. Niten Ryu, instead, is short for Niten-ichi Ryu (二天一流), a two-sword style developed by legendary samurai Miyamoto Musashi.
Leo's swords, whilst being referred to as "Katana", are actually "Ninjatō" (忍者刀 ninjatō), (also known as ninjaken (忍者剣) or shinobigatana (忍刀).
Leo seems to be the most educated (out of the four brothers) about Japanese culture and etiquette:
He understands Japanese when spoken to and is able to speak in this language to some extent, so he may understand what Booyakasha means (Blassing and love to the veary moment).
He knows, at least basics, of Japanese etiquette (i.e. he bows to master Splinter) Rise of the Turtles, Part 1
He uses chopsticks correctly and deftly Rise of the Turtles, Part 1
He is depicted as having blue eyes, like his brother, Mikey, but Leo's eyes are a darker shade of blue.
His caller ID on April's phone is "ichiban turtle", which means "number one turtle".
He develops an obvious crush on Karai in the episode New Girl in Town. He talks about her to April who is supportive; that is, until she finds out Karai is a part of the Foot Clan. He's the second Turtle to develop feelings for a 'human' girl, the first being Donatello (of course).
Of all four turtles, Leonardo seems to be the most loyal and respectful to Splinter.
He is the oldest of his brothers; Raphael, Donatello & Michelangelo.
He is the only Turtle who has not yet said, "Booyakasha".
It's shown in Enemy of My Enemy that Leo can put things before his own brothers.
He is the second tallest of his brothers, the first surprisingly being Donatello.
Of all the turtles, he's the most mature:

He was made leader by Splinter's choice.
He sometimes acts like a parent to Michelangelo.
He argues with Raph, and eventually finds logical reasons to win the argument.
Donatello and Michelangelo tend to listen to Leonardo instead of Raphael, because he thinks first before taking action.
Unlike his brothers, Leonardo always takes Splinter's advice seriously.

Leo is the first turtle to refer to Master Splinter as their father.
Leo is the first of his brothers to learn that Karai is actually Miwa, Splinter's daughter.
Leo has a tanto blade hidden under his wrist wraps, as seen in TCRI.