Leonardo (2012 TV series)
Talk

0
2,071pages on
this wiki
Leonardo
Biographical information
Home
Nickname(s)

Leo

Date of birth

c.1997 (15)

Weapon(s) of choice

Katana

Physical description
Species

Mutant Turtle

Gender
Height

5"8,173cm

Weight

155ibs,70kg

Bandana color

Blue

Eye color

dark blue

Out of universe information
Era(s)
First appearance
Voiced by
Teachers and Students

  [Source]
Leonardo or Leo is the leader of the Teenage Mutant Ninja Turtles. At the start of the series, he doesn't really know how to be that guy and thinks that he's just a little bit better than his brothers. He is mostly serious, but he does have a perchance for joviality. He wields twin katana, indicated in the series as Niten Ryu.
Leonardo is voiced by American Pie star Jason Biggs.
Personality
Edit
Leonardo is the most serious and focused of the team. Being the designated leader of the group, Leonardo is very enthusiastic about his role. He is also a big science-fiction fan (or "nerd" as referred to by Raphael). His favorite series is Space Heroes while his favorite character from the show is Captain Ryan. Leo has a habit of memorizing Captain Ryan's best lines from the show and repeating them during battle. Leo is so caught up with Space Heroes that he relies on Ryan's character traits more than on his own intuition which often causes his brothers (especially Raphael) to question his leadership.
For the most part, he tries to be the mature and responsible sibling, but there are times where he can be as childish as his brothers, such as teasing Donnie for losing to a mutant monkey and trying to be like an unrealistic TV character, although Leonardo often tries to comfort his brothers when they are scared or upset, mostly Mikey. He comes up with most of the plans and strategies while he and his brothers are fighting bad-guys or training in their Lair. It is also shown that he has a crush on Karai, but loves his brothers more. In one episode, Leo told Karai if she wanted to fight, fight him. He also said if she went after his brothers he'd go after her.
Biography
Edit
Fifteen years before the Rise of the Turtles, Part 1, the benevolent Hamato Yoshi purchased the four turtles. Yoshi came into contact with a rat and had to fight again a couple of Kraang. The aliens dropped their mutagen causing the mutation of Yoshi and the turtles. Yoshi raised the turtles as his own children and continues to train them in ninjutsu.
"Can I be the leader?" -Rise of the Turtles Part 1
"On second thought, run!"- Metalhead.
"It's my call, I decide who gets a beat down."(a moment later)"That guy needs a beat down."- I Think His Name Is Baxter Stockman
"You had two?! Where do you keep them?"- Panic In The Sewers.
"I don't want him, and I'm in charge!"- The Gauntlet
"I trusted you!" - The Alien Agenda.
"Your father?! Shredder is your father?! You're Shredder's daughter?" - Enemy of my enemy
"Imagine if they knew who they were working for.(Kraang voice) The ones who are working for this place must punch the card that is known as the 'timecard' in the clock which is known as the clock of time." - TCRI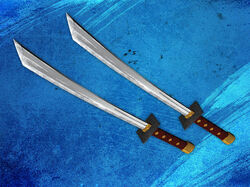 Leonardo's name is Italian, meaning "Strong as the Lion/Lion-Bold". Given the fact that he was adopted by Hamato Yoshi/Splinter, Leonardo's full name would be "Hamato Leonardo".

In Katakana, Leonardo's name is spelt: レオナルド (Reonarudo).

Niten Ryu is described as Leonardo's weapons, but it is in fact a fighting style, and not a weapon. A two-sword setup is properly known as a daisho. Niten Ryu, instead, is short for Niten-ichi Ryu (二天一流), a two-sword style developed by legendary samurai Miyamoto Musashi.

Leo's swords, whilest being refered to as "Katana", are actually "Ninjatō" (忍者刀 ninjatō), (also known as ninjaken (忍者剣) or shinobigatana (忍刀)).

Leo seems to be the most educated (out of the four brothers) about Japanese culture and etiquette:
He is depicted as having blue eyes, like his brother, Mikey, but Leo's eyes are a darker shade of blue.
His Niten Ryu means "the strategy of two heavens in one fight", reffering to his two swords.
His caller ID on April's phone is "ichiban turtle", which means "number one turtle".
He develops an obvious crush on Karai in the episode New Girl in Town. He talks about her to April who is supportive; that is, until she finds out Karai is a part of the Foot Clan. He's the second Turtle to develop feelings for a 'human' girl, the first being Donatello (of course).
Of all four turtles, Leonardo seems to be the most loyal and respectful to Splinter.
He is the oldest of his brothers; Raphael, Donatello & Michelangelo.
He is the only Turtle who has not yet said, "Booyakasha".
It's shown in Enemy of My Enemy that Leo can put things before his own brothers.
He is the second tallest of his brothers, the first surprisingly being Donatello.
Of all the turtles, he's the most mature one:

He was made leader by Splinter's choice
He sometimes acts like a parent to Michelangelo 
He argues with Raph, and eventually finds logical reasons to win the argument
Donatello and Michelangelo tend to listen to Leonardo instead of Raphael, because he thinks first before taking action
Unlike his brothers, Leonardo always takes Splinter's advice seriously