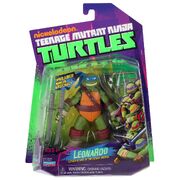 Leader and king of the katana swords!
Description
Hardworking, honorable and respectful, Leonardo is the Turtles' fearless leader. Driven to be the perfect hero, Leo's inexperience and (often) rowdy brothers sometimes get in the way of his goal.
Accessories
3 katana
3 kunai
2 shuriken
1 tanto blade
Articulation
Ball Joint Neck
Swivel Hinge Shoulders
Swivel Hinge Elbows
Swivel Hinge Hips
Swivel Hinge Knees
Swivel Wrists
Gallery
2012 SDCC Exclusive Version
A version of this Leonardo figure was released as a San Diego Comic Con 2012 exclusive. Besides the packaging, the figure mold is identical, except for the black and green painting. It also comes with a manhole cover stand for the figure. It was also rereleased in Toys R Us Australia for a brief period of time in 2014.
Ad blocker interference detected!
Wikia is a free-to-use site that makes money from advertising. We have a modified experience for viewers using ad blockers

Wikia is not accessible if you've made further modifications. Remove the custom ad blocker rule(s) and the page will load as expected.