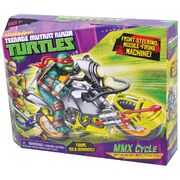 Turtles Mutant Moto Cross Cycle
Description
The Turtles' Mutant Moto Cross Cycle can go the distance trackin' down the Kraang, Foot Clan, or whoever else needs a beatin'. It's Turtle Power, MMX style!
Sewer Wall Protector Pipes
Kraang Bustin' Wheel Guard
Sewer Trax Treads
Flicking Firing Missiles
Notes
Figures sold separately
Works with most Turtles figures
This is the same mold of the Nightwatcher Stunt Rider's Motorcycle from the TMNT 2007 movie.
Gallery
Ad blocker interference detected!
Wikia is a free-to-use site that makes money from advertising. We have a modified experience for viewers using ad blockers

Wikia is not accessible if you've made further modifications. Remove the custom ad blocker rule(s) and the page will load as expected.