Home
Talk

38
2,821pages on
this wiki
                   


Featured News
Featured Media
Trailer for the second season of Teenage Mutant Ninja Turtles (2012 TV series)

Did you know…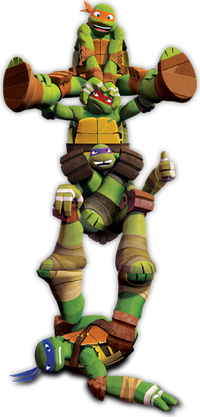 … that the name "Chet" appears in most of the early Mirage comics? It is typically used as the name of background stores, or graffiti. It can also be found in the Archie kickoff mini-series. It was said that it was the name of the boy who dropped the baby turtles into the sewer. It is also the alias for the Fugitoid in the IDW On-going comicbook series.
…that the four actors playing the Turtles also had cameo appearances in the movie without their costumes?
…that the voice of The Shredder in the original cartoon series was that of James Avery, more commonly known for his role of "Uncle Phil" in The Fresh Prince of Bel-Air?
...Rob Paulsen (the first cartoon voice of Raphael in the 1987 series) also provides the voice for the Honda character "Mr. Opportunity" and currently voices Donatello in the new Nickelodeon version of the Turtles?
...late film editor Sally Menke (who worked on all films of Quentin Tarantino, including Kill Bill), Quentin Tarantino's film editor and "greatest and only collaborator" got her start editing the 1990 Teenage Mutant Ninja Turtles film?
...Successful Executive Producer Chuck Lorre ("The Big Bang Theory", "Two and a Half Men", "Dharma and Greg") got his start in television co-writing the revered 1987 animated series theme song. It is also of note that in the continuity of "Two and a Half Men", main character Charlie Harper is the writer of the 1987 theme song.
The four turtles are named after legendary artists of the Italian Renaissance: Leonardo di ser Piero da Vinci, Raffaello Sanzio da Urbino, Michelangelo di Lodovico Buonarroti Simoni and Donato di Niccolò di Betto Bardi.
Clancy Brown, the voice of Bradford in the new Nick series, also voices Mr. Krabs in Spongebob Squarepants, Hades in God Of War and Lex Luthor in the "Superman Animated Series", "Justice League Animated Series" and "LEGO Batman 2:DC Superheroes."
The new 2012 TMNT action figures have removable heads.
Kevin Michael Richardson and Rob Paulsen from the Nickeloden's TMNT both played as Gantu and Reuben (Experiment 625) in the Disney's "Lilo and Stitch" movies and cartoon series.
| | |
| --- | --- |
| | |