Join us on Facebook and Twitter!
Lead Administrators: Sugilita | The S | Trigger009
Turtlepedia was created by the fans, for the fans, and is dedicated to housing a useful and informative database for all subject matter related to the TMNT universe. Our goal is to collaborate with other fans in order to build a reliable, accurate resource with as much detailed information about the comics, TV Series, video games, and films as possible. All are welcome to join in and contribute here, so long as edits are constructive, discussions are positive, and both are relevant to the TMNT franchise.
For more information about how you can get started here, please check the "
Helping Out
" section below. Thanks for stopping by!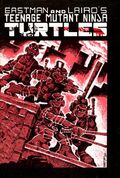 The
Teenage Mutant Ninja Turtles
(often shortened to TMNT or Ninja Turtles) are a fictional team of four teenage anthropomorphic turtles -
Leonardo
,
Donatello
,
Raphael
, and
Michelangelo
- named after four Renaissance artists, who were trained by their anthropomorphic rat sensei,
Splinter
in the art of
ninjutsu
. From
their home
in the storm
sewers
of
New York City
, they battle petty criminals, evil overlords, mutated animals, and alien invaders while attempting to remain isolated from society. The characters originated in the Teenage Mutant Ninja Turtles
comic book
before their expansion into a
cartoon series
,
films
,
video games
,
toys
, and other general merchandise. During the peak of franchise's popularity in the late 1980s through the early 1990s, the franchise gained considerable worldwide success and fame.

4.22 "The Power Inside Her"
November 20, 2016

4.23 "Tokka vs. The World"
February 5, 2017


Past Series
Related Series

Live Action
Animated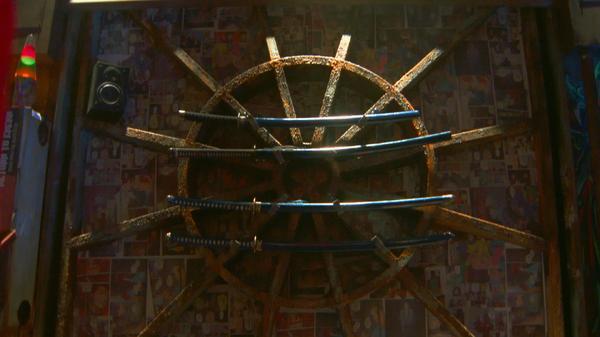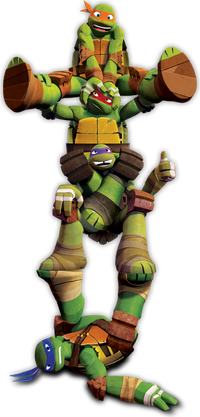 … that the name "Chet" appears in most of the early Mirage comics? It is typically used as the name of background stores, or graffiti. It can also be found in the Archie kickoff mini-series. It was said that it was the name of the boy who dropped the baby turtles into the sewer. It is also the alias for the Fugitoid in the IDW On-going comicbook series.
…that the four actors playing the Turtles also had cameo appearances in the movie without their costumes?
…that the voice of The Shredder in the original cartoon series was that of the late James Avery, more commonly known for his role of "Uncle Phil" in The Fresh Prince of Bel-Air?
...late film editor Sally Menke (who worked on all films of Quentin Tarantino, including Kill Bill), Quentin Tarantino's film editor and "greatest and only collaborator" got her start editing the 1990 Teenage Mutant Ninja Turtles film?
...Successful Executive Producer Chuck Lorre ("The Big Bang Theory", "Two and a Half Men", "Dharma and Greg") got his start in television co-writing the revered 1987 animated series theme song. It is also of note that in the continuity of "Two and a Half Men", main character Charlie Harper is the writer of the 1987 theme song.
The four turtles are named after legendary artists of the Italian Renaissance: Leonardo di ser Piero da Vinci, Raffaello Sanzio da Urbino, Michelangelo di Lodovico Buonarroti Simoni and Donato di Niccolò di Betto Bardi.

We are currently housing
6,776
articles, and
53,014
files.
We need YOU to help us expand and add articles to this wiki!
Helping Out
For starters, please sign up to create a FREE personal account, or log in if you already have one.
---
---
If you're new to Wikia, or Turtlepedia, please use the above links to get started.
If you already have editing experience, and you have an article relating to the Teenage Mutant Ninja Turtles franchise to contribute, use the box below to create it:
If you're looking to help with cleanup, you can start here:
---
---
Check out the
community portal
to see what the community is working on, to give feedback,
or just to say hi.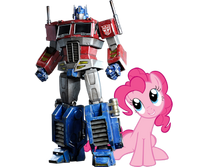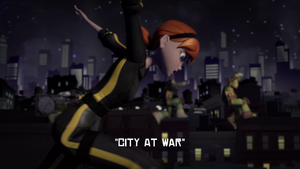 City at War
is the fifteenth episode of the fourth season of
Teenage Mutant Ninja Turtles
and the 93rd episode overall of the series, airing on August 14,
2016
.
Plot
April
faces a deadly, new enemy when she graduates to full
Kunoichi
; the Turtles must deal with the return of some old foes.


Create blog post
Refresh
OMG, New TMNT episode titles were just accouned, here they are.

S4E23: Tokka VS. The World: Tokka comes to Earth, looking for her baby.

S4E24: The Tale Of Tiger Claw: A dangerous female mutant fox is o…

Read more >

I'm back on Turtlepedia and I..honestly don't know what to do from here. I used to be Raph15, but I forgot my password and I didn't feel like going through the hassel of trying to find it so, yay new…

Read more >
See more >


0
TMNTPedia
Join the Chat>

Who is your favorite turtle?
Who is the best 5th turtle?

"Life at best is bittersweet" -- Kirby, TMNT 2k3, S01E16

Ad blocker interference detected!
Wikia is a free-to-use site that makes money from advertising. We have a modified experience for viewers using ad blockers

Wikia is not accessible if you've made further modifications. Remove the custom ad blocker rule(s) and the page will load as expected.