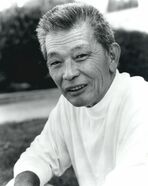 Makoto Iwamatsu (岩松 信,
Iwamatsu Makoto
) (December 10, 1933 – July 21, 2006), professionally known as Mako Iwamatsu or just
Mako
, was a Japanese-American actor and voice talent, nominated for the Oscar and Tony awards. He is best known for roles in the Arnold Schwarzenegger Conan movies,
Highlander III
, and the Jackie Chan film
Big Brawl
, as well as the voice of main villain Aku in the cartoon
Samurai Jack
also for playing Iroh in
Avatar: The Last Airbender
.
Director Kevin Munroe announced on July 20, 2006 that Mako was voicing Splinter in the then-upcoming 2007 film, TMNT. Sadly, the very next day, Mako passed away at the age of 72. All of Mako's lines for the film had been finished, and any ADR cleanup was finished by his Samurai Jack co-star, Phil LaMarr.
Ad blocker interference detected!
Wikia is a free-to-use site that makes money from advertising. We have a modified experience for viewers using ad blockers

Wikia is not accessible if you've made further modifications. Remove the custom ad blocker rule(s) and the page will load as expected.