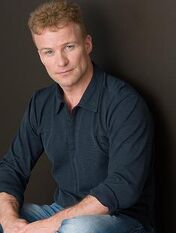 Matt Hill (Born January 19, 1968) is a voice and suit actor best known for providing the voice of Raphael in Ninja Turtles: The Next Mutation. Interestingly enough, Matt was the actor who was inside the suit of Raphael in Teenage Mutant Ninja Turtles III.
TV Shows
Matt also voices characters from other shows such as:
Ed, Edd n Eddy - Ed
Gundam SEED - Kira Yamoto
Street Sharks - Jab/Clint Bolton
Sonic Underground - Max
Transformers: Armada - Carlos
Transformers: Energon - Carlos, Ironhide
X-Men: Evolution - Havok/Alex Masters
Captain N: The Game Master - Kevin Keene/ Captain N
MegaMan NT Warrior - Bass.EXE
Ad blocker interference detected!
Wikia is a free-to-use site that makes money from advertising. We have a modified experience for viewers using ad blockers

Wikia is not accessible if you've made further modifications. Remove the custom ad blocker rule(s) and the page will load as expected.