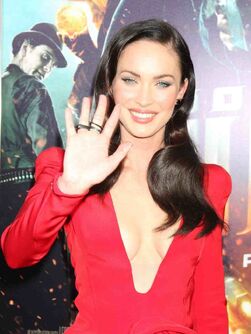 Megan Denise Fox (born May 16, 1986; 31 years old) is an American actress and model best known for playing Mikaela Barnes in 2007's hit film Transformers and the 2009 sequel, Transformers: Revenge of the Fallen. She began her acting career in 2001, with several minor television and film roles, and played a regular role on the Hope & Faith television show. In 2004, she made her film debut with a role in Confessions of a Teenage Drama Queen. Later in 2009, she starred as the eponymous lead role of Jennifer Check in the black comedy horror film Jennifer's Body.
She played April O'Neil in the 2014 film reboot and the 2016 sequel. For this role, she won the 2014 Golden Raspberry Award for Worst Supporting Actress.
Ad blocker interference detected!
Wikia is a free-to-use site that makes money from advertising. We have a modified experience for viewers using ad blockers

Wikia is not accessible if you've made further modifications. Remove the custom ad blocker rule(s) and the page will load as expected.