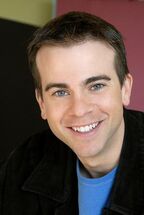 Mikey Kelley was the voice of Michelangelo in TMNT.
Other Roles
Silver Surfer in The Super Hero Squad Show
Rip Runner in Loonatics Unleashed
Kamandi in Batman The Brave and The Bold (2 Episodes)
Alastor in Viewtiful Joe video game series
He was the original Ratchet in the first Ratchet and Clank game. James Arnold Taylor, the second and current voice of Ratchet, played Leonardo alongside Kelly's Michelangelo in the same movie.