Miyamoto Usagi
Talk

0
3,210pages on
this wiki
Miyamoto Usagi Yojimbo
Biographical information
Home

Feudal Japan in a dimmension

Weapon(s) of choice

one katana (long sword)
one wakizashi (short sword)
Naginata (Curved Spear)
Tanto (Dagger)
Fist Dagger
Samurai Armor

Occupation

Samurai

Affiliation
Physical description
Species

Rabbit

Gender
Height

5' 6" with ears fully extended 5' 9" (ears extended)

Weight

125 lbs.; with carrot and armor

Hair color

White

Eye color

Black, Grey, Yellow/Blue

Out of universe information
Era(s)
Mirage, 1987 series, 2003 series, Back to the Sewer, Video games
Publisher
First appearance

ALBEDO Volume 1, Issue 2,
"The Goblin of Adachigahara"

Created by
Voiced by

Townsend Coleman (1987)
Jason Griffith (2003)

Teachers and Students

  [Source]
Miyamoto Usagi Yojimbo is a character created by Stan Sakai. He first appeared in Albedo magazine, but was popular enough to start his own series, Usagi Yojimbo. On occasion, Usagi has appeared in cross-overs with the Teenage Mutant Ninja Turtles.
Usagi Yojimbo
Miyamoto Usagi was born the only son of a village headman. In his younger years, Usagi and his childhood friend Kenichi were sent to be trained in the arts of war at the Dogora school, but on their way Usagi witnessed a band of arrogant Dogora students attacking a lone swordsmaster by the name of Katsuichi, who defeated his challengers with uncanny ease. Awed, Usagi chose to train with Katsuichi instead and with much determination became his exclusive and dedicated student. During one of his adventures, he first met the man who would become his master in young adulthood, Lord Mifune, who was impressed by Usagi's character and skill and eventually took him as a retainer.
Usagi served his lord well and faithfully, attaining the rank of personal bodyguard to Lord Mifune, until Lord Hijiki, an ambitious and evil daimyo, had Mifune's wife and son assassinated. Mifune moved to war against Hijiki, but in the midst of the fray one of Mifune's allies turned traitor, turning the battle into a slaughter. Mifune fell, but Usagi survived and escaped the battlefield with his lord's head to avoid having it displayed as a victory trophy by Hijiki. After burying the head, Usagi took to wandering the country as a ronin, perfecting his fighting skills as a shugoysha and following the warrior's path of learning, occasionally serving as a bodyguard (or Yojimbo), or helping his friend Gen as a bounty hunter. Usagi's sense of samurai honor and pride often led to him helping those in need and sticking his nose in other people's business which has gotten him in trouble on more than a few occasions.
Mirage Comics
One or more of the Teenage Mutant Ninja Turtles have appeared in the Usagi Yojimbo stories listed below. All stories were written by Stan Sakai unless otherwise noted.
1987 Series
In the
1987 series
, Usagi was mistakenly called
Usagi Yojimbo
, which is the title of the comic rather than the name of the character.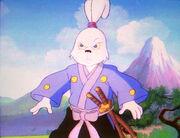 Usagi first appeared when Donatello's interdimensional device malfunctioned due to interference from The Shredder's device. Upon entering the Turtle's dimension, Usagi assumed that the Turtles were Turtle Guards sent to attack him. Luckily, Michaelangelo was able to subdue him by slapping him in the face with a pizza. They decide that Usagi should be returned to his home and that he should stay with the Turtles until they can transport him back.
Usagi helped the Turtles find the source of the disruption. After fighting some Foot Soldiers, Usagi wandered into a rabbit-themed restaurant where he was mistaken for a waiter. Shortly after, he decided to "liberate" his "enslaved brothers."
After his rebellion, Michaelangelo found him and took him to the rest of the group. When Baby-San was hatched, Usagi was part of the group that found Obento. Usagi was the one to place the Blue Flame of Osaka in the dragon's mouth, causing him to return to his egg. Afterwards, Obento agreed to care for Usagi until he could return home.
Appearances
Movies
There was a banner with an image of Usagi on the set of Teenage Mutant Ninja Turtles III.[1]
2003 Series
In the 2003 series, Usagi was several years ago invited to compete in the Battle Nexus Tournament. While carrying water one night, he witnessed the current Battle Nexus Champion, Splinter, coming under attack by Drako (whom Splinter had beaten earlier) and a gang of shadowy assassins. Usagi quickly jumped to his aid until the Ultimate Daimyo intervened and banished Drako for his treacherous attack.
An unspecified number of years later, Usagi and his friend Gennosuke returned to compete in the Tournament. In the Hall of Champions, Usagi witnessed Leonardo, who was attending the Tournament along with his brothers for the first time, come under attack by the same assassins he had encountered years ago and came to his aid. During this fight, Usagi and Leo formed a friendship which would endure even when they were pitted against each other in the arena. Right in the middle of their match, however, the Ultimate Ninja decided to set his plans to claim the Battle Nexus for his own and take revenge on Leonardo in motion and poisoned Leo with a blowgun dart.
Even though initially distrusted by Donatello, Usagi maintained his calm and eventually ended up fighting side by side with Don against the shadow assassins, who were trying to kill both the weakened Leonardo and the Daimyo. He subsequently joined the Turtles, Splinter and Traximus in their attempt to stop the Ultimate Ninja and Drako from getting hold of the Daimyo's War Staff, and after the crisis was resolved, he and the Turtles, especially Leonardo, parted as friends.
Later, he visited the Turtles in New York. Leonardo was transported to Usagi's world by the Ultimate Ninja/Drako and asked Usagi for help.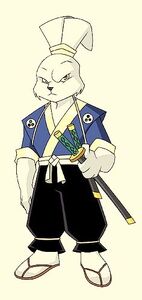 Usagi, along with Gennosuke, attended April and Casey's wedding.
Appearances
Action figures
Two action figures of Usagi were released under the Teenage Mutant Ninja Turtles toy line. Both bare the misnaming of "Usagi Yojimbo" as the character's name.
The first one was released in 1989. Unlike his animated counterpart, this Usagi was wearing samurai armor similar to one of the many suits of armor he had worn at times during his own comic, only it was blue. The figure's accessories included a naginata, a katana, a wakizashi, a tanto, a fist dagger, removable armor plates for his shoulders and thighs.
The second figure, released in 2004, was closer to his animated counterpart and standard outfit seen in the comics, only his top was a darker blue. He came with two katana and two wakizashi, and had an action feature that allowed his top torso to spin as if he were slashing with his weapons. This required that the figure was constantly locked in an awkward position.
Two other figures of characters from Usagi's universe were released in the TMNT line: Space Usagi in 1991, and Gennosuke in 2005.
Video Games
Usagi's first appearance in a video game was not in one with the Turtles, but instead, one of his own. Samurai Warrior: The Battles of Usagi Yojimbo was released by the software company Firebird in 1988, for the Amstrad CPC, Commodore 64, and Spectrum ZX.
Usagi's first appearance in a TMNT game was in Teenage Mutant Ninja Turtles 2: Battle Nexus. He was a combatant in the game's Battle Nexus mode, but was not a playable character.
Trivia
References
External Links