Monkey Quest Teenage Mutant Ninja Turtles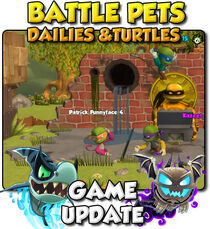 Due to the new TV show on Nickelodeon, Monkey Quest made an update so you could get a turtle costume and a weapon. You go to the treasure chest in The Crossroads, and open it once every day. It places part of the theme song
and gives you either a hat, suit piece, or throwing star based on which day it is in the 3 day cycle.
Ad blocker interference detected!
Wikia is a free-to-use site that makes money from advertising. We have a modified experience for viewers using ad blockers

Wikia is not accessible if you've made further modifications. Remove the custom ad blocker rule(s) and the page will load as expected.