Films
Talk

0
2,061pages on
this wiki
Redirected from Movies
Here is a list of the Teenage Mutant Ninja Turtles films. 
Live action films:
Animated films:
For more words see below.
Live action films
Edit
Teenage Mutant Ninja Turtles (1990)Edit
The first film, Teenage Mutant Ninja Turtles, closely follows the storyline from the Mirage comic books, in addition to some of the more lighthearted elements of the cartoons. This movie presents the origin story of Splinter and the Turtles, their initial encounters with April O'Neil (Judith Hoag) and Casey Jones (Elias Koteas), and their first confrontation with Shredder and his Foot Clan. The Turtles must defeat The Shredder and his growing army of Foot Clan Ninjas, avenging Hamato Yoshi with the help of their human friends Casey Jones and April O'Neil. Another plot point for the movie is that The Foot have kidnapped Splinter, and the Turtles must rescue him from the Shredder's grasp. Directed by Steve Barron and released by New Line Cinema, the film showcases the innovative puppetry techniques of Jim Henson's Creature Shop.
Teenage Mutant Ninja Turtles II: The Secret of the Ooze (1991)Edit
The first sequel, titled Teenage Mutant Ninja Turtles II: The Secret of the Ooze, claims the dubious distinction as Vanilla Ice's film debut. It is dedicated in memory of puppeteer Jim Henson. The Turtles learn more of their origin and fight Tokka and Rahzar who are mutant animals created by the Shredder with the aid of the Turtles' human friend Keno (Ernie Reyes, Jr.) a Asian teenage boy and the famous Professor Jordon Perry.
Teenage Mutant Ninja Turtles III (1993)Edit
The third film in the series, Teenage Mutant Ninja Turtles III, features Elias Koteas reprising his role as Casey Jones. The plot revolves around the "Sacred Sands of Time", a mystical scepter. The Turtles go back in time to 1603 feudal Japan to save April O'Neil and become invovled in a great battle between the Japanese ruler Lord Norinaga and a group of rebellious villagers.
We Wish You a Turtle Christmas (1994)Edit
The Turtles sing Christmas songs and argue about getting Splinter a Christmas gift.
Teenage Mutant Ninja Turtles (2014)Edit
Paramount Pictures with an expected release date sometime in 2012.[1]
Following the news of the buyout, it was announced that Nickelodeon would produce a new film through
In late May of 2011 it was announced that Paramount and Nickelodeon had brought Michael Bay and his Platinum Dunes partners Brad Fuller and Andrew Form on to produce the next film that reboot the film series. Bay, Fuller, and Form would produce along side Walker and Mednick.[2]
For the script, the studio originally hired Matt Holloway and Art Marcum to write the film for close to a million dollars. A year later the Studio turns to writers Josh Appelbaum and Andre Nemec to rewrite the script.[3][4] In February of 2012, Jonathan Liebesman was brought in to negotiations to direct the film.[5] Later in March it was announced that Paramount had pushed back film's release date to Christmas Day 2013.[6] However, in June 2012, Paramount shut down their planned production due to script issues, pushing their release date out until May 2014.
In early March, Michael Bay revealed at the 2012 Nickeloden Upfront that the film will be simply titled Ninja Turtles and that the turtles will be "from an alien race".[7][8] News of Bay's creative change was met with negative criticism from within the fan community.[9] In response to the announcement, actor Robbie Rist who voiced Michaelangelo the first three films, wrote to Bay accusing him of "sodomizing" the franchise. Rist later remarked that he could have been out of line since Bay makes more money than he does.[10] In response to the feedback, Bay issued a statement asking fans to calm down since a script had not been revealed, his team was working closely with the creators, and would include all the elements that made them fans to begin with.[11] Both Brian Toshi, who voiced Leonardo in the first three films, and Judith Hoag, who played April O'Neal in first film, have voiced their support towards the creative change. [12] Peter Laird expressed his thoughts on the change asking fans to take Bay's advice and wait until more of Bay's plan is made available. Laird also stated that he felt the "ill-conceived plan" could be a "genius notion", as it would allow fans to have the multitude of bipedal anamorphic turtles that they have been asking for. He would point out that while the concept of a turtle planet back story made for a great run of the mill science fiction story, but it had no real place in the Ninja Turtles universe.[13] Co-creator Kevin Eastman stated that he had been invited behind the scenes of the film, and concluded that he was official on board with the project and that, although he couldn't say much, he believes it to be "awesome".[14] Via Twitter, Corey Feldman, who voiced Donatello in the first and third films, voiced his support for the film saying that he loves Bay's remakes and he is eager to reprise his role.[15] In response to the backlash, Liebesman stated that he was glad to hear about the fan's response, since He and Eastman had been locked in a room working on ideas that, from his own perspective as a fan, everybody will love. If anything storywise were to be expanded upon, it would fit in perfectly with mythos.[16] While he wouldn't confirm whether or not Bay's comment did represent the film's premise, he did stress on the ooze itself and its background in the original comic, reminding that the ooze was the product of alien technology. In regards to how the Turtles would be rendered, Liebesman would not say exactly what visual direction would be taken, but he did state that he did enjoy Weta Digital's work in Rise of the Planet of the Apes. He also pointed out that the film would not be exclusively about action but will also focus on brotherhood, friendship, and responsibility.[17] In late March Michael Bay posted on his website explaining the title change and stressing that nothing had changed regarding the Turtles. He stated the reason the title was shorten was at a request by Paramount to make the title "simple". He continued that the Turtle were the same as fans remember and regardless of the title change they still act like teenagers. He urged everyone to give everybody who was involved a chance, as they had the fans interest at top priority and would not let anybody down.[18]
Entertainment Weekly reported Megan Fox had been cast in the role of April.[19] That same month, the studio pushed back the film's release date (again) until June 6, 2014, and a new writer Evan Daugherty was brought on board.[20] Filming began March 22, 2013 in Tupper Lake, New York.[21] On March 24, Deadline reported that Alan Ritchson, Pete Ploszek, Jeremy Howard and Noel Fisher were cast as Raphael, Leonardo, Donatello, and Michelangelo respectively.[22][23] On April 2, 2013, Will Arnett was cast in an unspecified role.[24] Shooting began in April in New York City and at Jones Beach State Park in Wantagh on Long Island, New York under the code words "four squared" (4SQ).[25] On April 15, 2013, actor Danny Woodburn joined the cast as Splinter.[26] On April 20, 2013, the film was renamed as Teenage Mutant Ninja Turtles.[27] On April 29, 2013, Michael Bay retracted comments that the turtles will be aliens.[28]
Animated films
Edit
TMNT (2007)Edit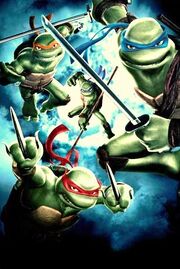 The Turtles' film, titled simply TMNT, was released March 23, 2007. It is the fourth and final installment of the original series. Unlike the previous films, it utilized 100% computer-generated imagery, produced by Imagi Animation Studios and distributed by Warner Bros. Pictures and The Weinstein Company. Chronologically, this movie takes place after the third movie. According to a press release, "the PG-rated movie will derive its tone from the original comic-book series and will be slightly grittier than the previous live-action pictures. The animation was created in Imagi's state-of-the-art facility in Hong Kong." The teaser trailer was released July 20, 2006. A second trailer was released January 17, 2007. The storyline focuses on an ancient legend of four siblings and thirteen monsters, taking a giant leap from any preceding turtle movies yet gave small evidence to the fact that the film is a sequel to the 3 movies that had preceded it (including showing the magical sceptre from Teenage Mutant Ninja Turtles III, the canister the oozecamefrom Teenage Mutant Ninja Turtles II near the ending, and Shredder's helmet, resembling the one from the original Teenage Mutant Ninja Turtles film, even though it was thought to have been crushed in the original movie). The movie takes place after Shredder's defeat, with the team essentially broken as Leonardo is training in Central America, Donatello and Michelangelo have jobs, and Raphael spends his time as the vigilante crimefighter 'Nightwatcher'. Leonardo returns when Max Winters, an immortal warrior who tried to take over the world 3,000 years ago, begins hunting for alien beasts and stone statues of his former Generals. However, tensions begin to rise between Raphael and Leonardo over the leadership of the team. The Foot Clan also make an appearance, with Karai leading them. It is hinted towards the end of the film by a comment by Karai that either the Shredder is not dead, there is a new incarnation of the Shredder in the Foot Clan, or that he will be resurrected. TMNT is  the final Ninja Turtle movie to be distributed by Time Warner due to the franchise being purchased by Viacom.
Turtles Forever (2009)Edit
The 25th Anniversary movie. The 1987s Turtles team up with the 2003 Turtles and must save all other versions of the Turtles from being destroyed with the help of the original Mirage Turtles.
In an interview with Kevin Munroe, he stated that he would like to direct a possible sequel to the 2007 TMNT film, possibly involving the return of the Shredder.[29] In an interview, Peter Laird stated he was interested in the idea of having the next film be live action CGI film, with the Turtles rendered in CGI and Sarah Michelle Geller and Chris Evans reprising their TMNT roles in live action. In late April of 2009, it was announced a new live action film would be in the works for a 2011 release. Mirage Studios was partnering with producers Scott Mednick and Galen Walker, with Peter Laird, Gary Richardson, Frederick Fierst, Eric Crown and Napoleon Smith III would serve as executive producers, and 4Kids Entertainment would handle the film's merchandising.[30] It was stated that the story would be a prequel that would focus on the Turtles origin.[31] In July of 2009, an open casting call was made for extras to play as members of the Foot Clan, with Ernie Reyes, Jr. as an acting judge. [32] However, in mid October of 2009, it was announced that Viacom's subsidiary network Nickelodeon had purchased all of Mirage's rights to the Teenage Mutant Ninja Turtles property for $9.75 million, thus terminating all deals with 4Kids and Time Warner.[33][34][1]
References
Edit
↑ 1.0 1.1 Finke, Nikki (October 21, 2009). Nickelodeon To Revive Teenage Mutant Ninja Turtles For TV/Film After Acquiring Global Rights For $60M. Deadline. Retrieved on March 24, 2012.
↑ Fleming, Mike (May 27, 2010). Platinum Dunes Steers 'Turtles' Relaunch. Deadline Hollywood. Retrieved on May 27, 2010.
↑ Finke, Nikki (August 19, 2010). Paramount Revs Up 'Ninja Turtles' Reboot. Deadline Hollywood. Retrieved on August 19, 2010.
↑ Fleming, Mike (June 7, 2011). Paramount Taps 'M:I4' Scribes Appelbaum & Nemec For 'Teenage Mutant Ninja Turtles'. Deadline Hollywood. Retrieved on June 8, 2011.
↑ Kroll, Justin (February 14, 2012). Liebesman hatching 'Turtles' helming gig. Variety. Retrieved on March 13, 2012.
↑ Fleming, Mike (March 13, 2012). Paramount Sets 'Ninja Turtles' For Xmas 2013, Tom Cruise's 'One Shot' For Xmas 2012. Deadline Hollywood. Retrieved on March 14, 2012.
↑ Jafar, Mark (March 16, 2012). Scenes from the Nickelodeon Upfront. Viacom. Retrieved on March 17, 2012.
↑ Rodriguez, David (March 16, 2012). Michael Bay Talks Teenage Mutant Ninja Turtles. Stuff We Like. Retrieved on March 17, 2012.
↑ Bell, Crystal (March 19, 2012). Michael Bay: Ninja Turtles Movie Will Make 'TMNT' Aliens, Fans Cry Foul. Huffington Post. Retrieved on March 20, 2012.
↑ TMZ Staff (March 20, 2012). Ex-Ninja Turtles Actor Michael Bay is 'Sodomizing' the TMNT Legacy. TMZ. Retrieved on March 20, 2012.
↑ TMZ Staff (March 21, 2012). Michael Bay Leonardo AND April O'Neal Have My Back!. TMZ. Retrieved on March 21, 2012.
↑ Laird, Peter (March 20, 2012). A few musings on "Turtles as aliens". Peter Laid TMNT blog. Retrieved on March 20, 2012.
↑ nailbter111 (March 22, 2012). Teenage Mutant Ninja Turtles Creator Kevin Eastman Praises Michael Bay's Vision. Comic Book Movie. Retrieved on March 23, 2012.
↑ Daily Dish (March 22, 2012). Corey Feldman eager to star in Michael Bay's 'Ninja Turtles' remake. SF Gate. Retrieved on March 23, 2012.
↑ SuperHeroHype (March 23, 2012). Exclusive: Teenage Mutant Ninja Turtles Director Addresses "Alien" Backlash. SuperHeroHype. Retrieved on March 24, 2012.
↑ Chitwood, Adam (March 23, 2012). Jonathan Liebesman Talks Teenage Mutant Ninja Turtles Reboot; Addresses "Alien Race" Comments and Hints at Motion-Capture. Collider. Retrieved on March 24, 2012.
↑ Bay, Michael (March 27, 2012). 'Ninja Turtles' Title. Michael Bay Dot Com. Retrieved on March 27, 2012.
↑ Rome, Emily (2013-02-21). Casting Net: Megan Fox reunites with Michael Bay; Plus Adam Sandler and James Marsden. Entertainment Weekly. Retrieved on April 16, 2013.
↑ Cite error: Invalid <ref> tag; no text was provided for refs named hollywoodreporter
↑ 'Teenage Mutant Ninja Turtles' Reboot Finally Gets An Official Title Retrieved April 23, 2013
↑ Eisenberg, Eric (2013-04-29). Michael Bay Insists His Teenage Mutant Ninja Turtles Come From The Ooze. Entertainment Weekly. Retrieved on May 1, 2013.
↑ Alex Billington. "TMNT Sequel Planned, Could We See Shredder?", FirstShowing, March 4, 2007. Retrieved on March 11, 2007.
↑ ComingSoon (April 23, 2009). New Teenage Mutant Ninja Turtles Movie Coming!. ComingSoon. Retrieved on March 24, 2012.
↑ Rich Z (April 24, 2009). Ninja Turtles Origin Story Due in 2011. Reelz. Retrieved on March 24, 2012.
↑ ComingSoon (July 14, 2009). Martial Arts Experts Casting Call for Live-Action TMNT Movie. ComingSoon. Retrieved on March 24, 2012.
↑ Laird, Peter (October 21, 2009). Musings about the sale. Palblog. Retrieved on October 24, 2009.
↑ PRNewswire (October 21, 2009). The Mirage Group Sells Teenage Mutant Ninja Turtles(TM) to Nickelodeon. Reuters. Retrieved on November 4, 2009.