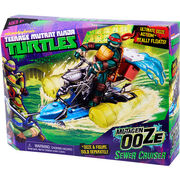 Fuled and Ready to Ride
Description
Go on an Ooze cruise with this fast-floating "wetski," complete with its own slick defense system: a cooler contraption to spill actual Ooze (sold separately) and stop any Kraang in pursuit. Works on land or in water. Really floats! Open the cooler and get ready to "ice" any pursuing villians!
Mutagen Ooze Defense Dumper
Search & Signal Beacon
Sewer Skimming Surfboard
Bold Ballast Barrels
Notes
Works with most Turtles Figures
Figures sold separately
Ooze sold separately
Gallery
Ad blocker interference detected!
Wikia is a free-to-use site that makes money from advertising. We have a modified experience for viewers using ad blockers

Wikia is not accessible if you've made further modifications. Remove the custom ad blocker rule(s) and the page will load as expected.