Neutrinos
Talk

0
2,058pages on
this wiki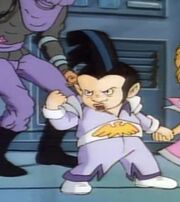 The Neutrinos are a race of humanoids from Dimension X. Contrary to other inhabitants of Dimension X, the Neutrinos hate war. These characters were invented for the 1987 animated series and first appeared in the episode "Hot Rodding Teenagers from Dimension X".
1987 series
Edit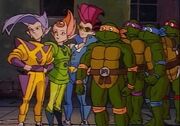 The first Neutrinos shown in the series are three kids named Dask, Kala, and Zak. They are accidentally transported from the Technodrome's teleporter to Earth, where they soon after become friends with the Turtles. The Neutrinos are the ones who tell the Turtles of Krang, that he was the supreme warlord of Dimension X until he got banished from the dimension, resulting in the loss of his body. After a brief stunt on Earth, the Turtles manage to become friends with the kids and help them go back home.
Krang mentions that the Neutrinos are not highly thought of in their home world. This is later revealed that it is on account that Dimension X is a place of total war and Krang has enslaved many inhabitants of Dimension X. Krang forced people to fight and die for him, which the Neutrinos wanted no part of. Kala cries over the fact that Krang dished out severe punishments for people having fun and enjoying themselves. Contrary to other inhabitants of Dimension X, the Neutrinos hate war and refuse to join any army. Although the Neutrinos are against war, they are not complete pacifists, as their vehicles are equipped with weapons that they will use in self-defense; in one episode, Dask says the weapons in the car were apparently required by law in Demension X.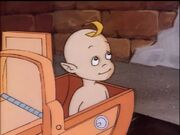 The Neutrinos return a few times afterward, and a romantic relationship between Kala and Michaelangelo is implied during those times. In the 1987 series episode "Four Turtles and a Baby", it is revealed the Neutrinos are ruled by king Zenter, and his wife Gizzla and child Tribble. Krang tries to blackmail the small people, but eventually the Turtles stop him. A Neutrino baby apparently has powers, but it is unclear if the "grown-up" Neutrinos have powers as well.
Archie Comics
Edit
The Neutrinos appear in issues #2 and #3 of the Archie Comics, which was based on the adventure from the television show.
Although not shown, it is indicated that the first batch of MutaStones come from the Neutrino Kingdom in the first episode of Mutant Turtles: Chōjin Densetsu Hen.
In the new IDW Comics, the Neutrinos are once again an alien race in Dimension X revolting against Krang and his Stone Soldiers. This continuity's version of Professor Honeycutt is a Neutrino who sacrificed his mortal body to escape to Earth in order to find help against Krang.
Video game appearance
Edit
Zak and Kala can be seen in the background of Chrome Dome's stage the Art Museum in the SNES version of Teenage Mutant Ninja Turtles: Tournament Fighters.