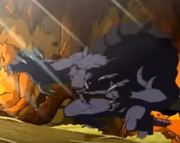 The
Nezumi-Tengu
are a group of minions of the
Tengu Shredder
's army. They appeared exclusively in the
2003 TV series
Lost Episodes
and the cell phone RPGs based on them,
Teenage Mutant Ninja Turtles: Ninja Tribunal
and
Teenage Mutant Ninja Turtles: The Shredder Reborn
.
The Nezumi-Tengu are a breed of ratlike demons, transformed from regular rats. The term Tengu was used as a generic term for Japanese demons in The Lost Episodes, and thus, was affixed to the characters' name.
Trivia
Nezumi (ねずみ) is Japanese for rat.
Some promotional materials for the "Lost Season" misspelled the characters' name as "Nazumi".
Ad blocker interference detected!
Wikia is a free-to-use site that makes money from advertising. We have a modified experience for viewers using ad blockers

Wikia is not accessible if you've made further modifications. Remove the custom ad blocker rule(s) and the page will load as expected.