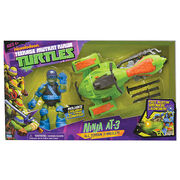 All Terrain 3-Wheeler
Description
When the battle goes from the streets to the sewers, the Turtles are ready! Introducing the Turtles' new three-wheeled machine that runs on all terrains. The Ninja AT-3 is designed and built for any conditions and hitting extreme speeds.
Spring-Loaded Grenade Launcher
Room for Two TMNT Basic Action Figures
Exclusive All-Terrain Leonardo Figure
Accessories
All-Terrain Leonardo:
Articulation
All-Terrain Leonardo:
Ball Joint Head
Swivel Hinge Shoulders
Swivel Hinge Elbows
Swivel Wrists
Swivel Hinge Hips
Swivel Hinge Knees
Notes
Works with most Turtles Figures

Only All-Terrain Leonardo is included. All other figures sold separately.
Gallery
Ad blocker interference detected!
Wikia is a free-to-use site that makes money from advertising. We have a modified experience for viewers using ad blockers

Wikia is not accessible if you've made further modifications. Remove the custom ad blocker rule(s) and the page will load as expected.