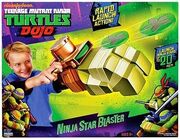 Description
In order to become a true Ninja Master, you have to train first! This Ninja Star Blaster allows you to stop Shredder in his tracks. Just load, aim, and rapid fire!
Do you have what it takes to be a Ninja Turtle?
Ninja Star Blaster features easy-load cannon and adjustable-wrist gauntlet. Comes with six foam ninja stars.
Rapid launch action! Pull the trigger and launch ninja stars up to 20 feet!
Gallery
Ad blocker interference detected!
Wikia is a free-to-use site that makes money from advertising. We have a modified experience for viewers using ad blockers

Wikia is not accessible if you've made further modifications. Remove the custom ad blocker rule(s) and the page will load as expected.